Glittering night as Infiniti Centre Hull opens doors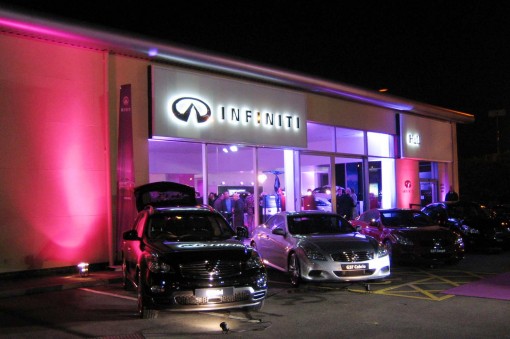 THE UK's seventh Infiniti Centre officially opened its doors to specially invited VIP guests during a sparkling evening of celebration in Hull.
The newest addition to the expanding Humberside Motor Group, on Priory Way, just off the A63, looks superb following a major transformation to represent Infiniti's growing range of luxury performance cars in a relaxed and welcoming environment.
Ta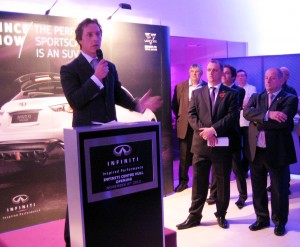 king pride of place in the country's newest Infiniti Centre was the Red Bull Formula 1 racing car of double world champion Sebastian Vettel, but one of the highlights of the evening was the unveiling of the exclusive FX Vettel Edition car which the F1 star helped to design.
Managing director of the Humberside Motor Group, Terry Smith, paid tribute to his family, his son Stephen, who is in charge of the Infiniti Centre, and his loyal customers who have supported the family-run business for more than 30 years.
Mr Smith said: "We are delighted to have acquired the Infiniti franchise. It's a new and exciting brand and we are looking forward to making our mark with Infiniti and becoming the top Infiniti dealer in the UK.
"Stephen has worked tremendously hard over the last 18 months to make all this a reality. He has grown up in the family business and has developed a business acumen second to none – but he's had a good tutor!"
Stephen Smith thanked his wife for her support during such a busy time and paid tribute to his loyal and hard-working team, which he promised his guests will continue to provide the same high standards of customer service that they always have done.
Infiniti's regional director Tony Lewis, introduced Guillaume Pellatreau, the sales director for Infiniti Europe, who paid tribute to the Smiths' achievements in Hull, before playing a recorded message from Sebastian Vettel, who wished good luck to everyone at the new Infiniti Centre.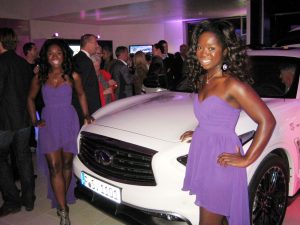 Then, with its lights on and its engine revving, the Vettel-inspired FX was unveiled to the applauding guests to mark the start of its UK tour which will take in other Infiniti Centres in Glasgow, Stockport, Leeds, Birmingham and Reading.
The evening in Hull concluded with a fireworks display and prize draw.
Stephen said: "Infiniti is still a new and exciting brand to the UK and I am very pleased to be one of the first centres to be able to supply these luxury performance vehicles. Although they are still a comparatively rare sight on our roads, some people like to stand out from the crowd and the Infiniti range allows our customers to do just that."
Other attractions during the evening included a display of watches and jewellery by G. Hewitt & Son and food was provided by Michelin award winners The Pipe and Glass.
For more information about the new Infiniti Centre in Hull, to find out more about the range of cars, or to book a test drive, call the team (01482) 351129 or send an email to: info@infiniti-hull.co.uk