Ford Kuga ST-Line X 2.0TDCi 150PS FWD road test report and review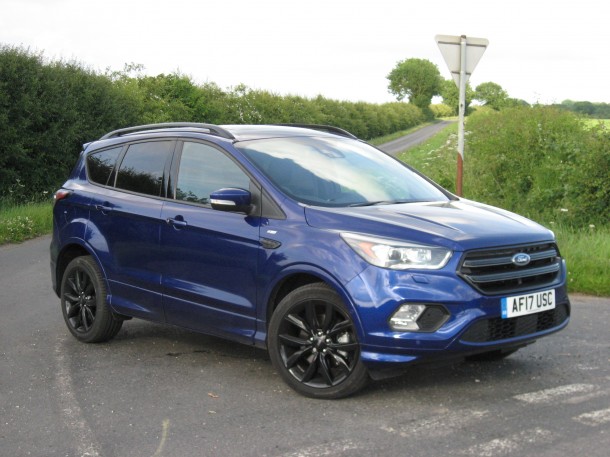 Ford Kuga ST-Line X 2.0TDCi 150PS FWD road test report and review: A capable all-rounder, and good to drive, DAVID HOOPER has a look at the latest Ford Kuga in the desirable ST-Line trim.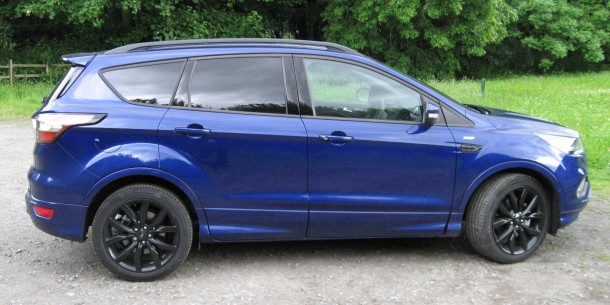 THIS recently revised Ford Kuga line-up now looks considerably sharper than its predecessor, particularly in the ST Line specification of our test car, in its lovely Deep Impact Blue paintwork which was complemented by the shiny black alloy wheels.
However, the car's good looks aren't restricted just to the outside, inside, too, there is much to like. The dashboard looks impressive, with its large wheels to control the air vents, a large screen positioned on the top of the dash from which you can control your telephone, various Apps, the sat nav and the Kuga's ventilation controls.
The rest of the instrumentation was as clear and as well thought out as the rest of the Ford range, and in the case of the Kuga, it comes with two trip computers and a whole host of steering wheel controls.

Among them are buttons for the cruise control, which is a radar system on our Kuga, and I liked the fact that you can either have the very clever radar element of it on or off, depending on your preference and the prevailing traffic conditions. The system works very well, and you can adjust the distance you prefer between you and the car in front, however, it seems to work best in lighter traffic conditions – if it's too busy and a car pulls in front of you taking up your "safe distance" the Kuga  will brake quite sharply, making your passengers jump (ask my mum) and sometimes even the driver – but that was mostly because my mum jumped!
It's a good system and does work very well, as does the lane-keeping warning which alerts you if you stray out of your lane on the motorway. When I was playing with the system on a quiet stretch of motorway, allowing the car to drift out of its lane, the system steers the car back on track and alerts the driver, but after I didn't respond as it wanted me to, after a few minutes the car decided I was tired and told me to take a break – I wasn't and I didn't, but it was interesting to see that the Kuga was actually looking after me!
The Ford Kuga has ample room for five adults to travel in comfort, and there is also a generous boot at the back, and I loved the way you can simply wave your foot under the rear bumper to open the boot, which, when you've got your arms full of "stuff", is a real boon and a feature I used on more than one occasion! The tailgate then opens all by itself, and a double click on the key fob, or another wave of the foot, will close it again, as will buttons on the tailgate itself or on the car's dashboard.
The Kuga, powered by its 2.0TDCi diesel engine, is an excellent drive, poised, precise and despite its tall-ish stance, very well balanced. The choice of gearing also works well, providing plenty of mid-range grunt, particularly in third and fourth gears, for overtaking manoeuvres, while the 0-62mph sprint from the lights can be despatched in 10.1 seconds.
The new Kuga then is an impressive and very likeable car to live with, particularly in this ST Line trim of our test car, well equipped, great looking and good to drive.
All I need now is the £30,754 asking price – although the range starts from £21,895.
Rating: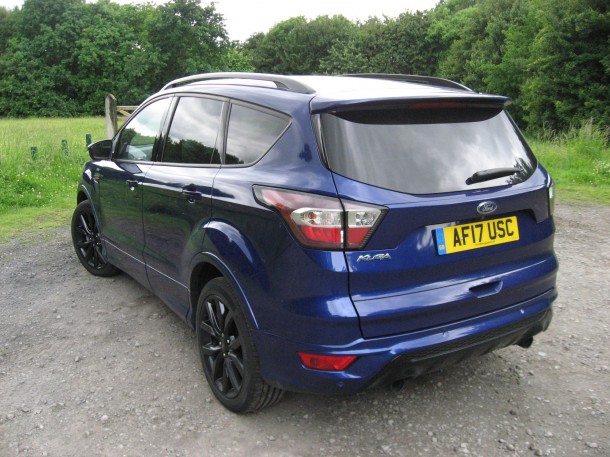 THE VITAL STATISTICS
MODEL: Ford Kuga ST-Line X 2.0TDCi 150PS FWD
ENGINE: 1997cc, 150bhp four-cylinder diesel engine, driving front wheels through 6-speed manual gearbox.
PERFORMANCE: Top speed 121mph. 0-62mph in 10.1 secs.
ECONOMY: City: 52.3mpg.
Country: 65.7mpg.
Combined: 60.1mpg.
Wheel World test average: 42.7mpg
CO2 EMISSIONS: 122g/km.
FUEL TANK: 60 litres.
INSURANCE: Group 23
PRICE: £30,754.
WARRANTY: 3 years/60,000 miles
WEBSITE: www.ford.co.uk
• All data correct at time of publication.