Eye-catching new cars from Jeep and Chrysler
ROAD TEST REPORT AND REVIEW:
JEEP GRAND CHEROKEE AND CHRYSLER DELTA.
Catching up with some of the latest models from Chrysler and Jeep, wheelworldreviews editor DAVID HOOPER feels the Delta's force.
WITH short, cold days, there's nothing quite like the warm, secure feeling you get at the wheel of an imposing 4×4.
The nice warm feeling came from the heated leather seats we sunk into as we piloted the latest Jeep Grand Cherokee through the congested city streets of York. We were making our way out into the surrounding countryside, where this car is most at home.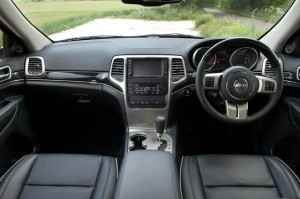 Familiarity is the name of the game with the Grand Cherokee and this is one name which will be very familiar to fans of the iconic American Jeep brand. Not so familiar though, will be the latest model, which now features much more contemporary styling than its chunky predecessors which I suspect this car would dwarf if you parked them side-by-side.
It's a big, imposing and surprisingly classy car, with a smart interior, bags of space and a huge boot.
In fact, everything about it is huge, from its tyres, to its seats, to its engine, to its price tag, although unlike some of its rivals, for the money, you would want for nothing.
The model I tested concealed a powerful 3.0-litre V6 diesel engine beneath its long bonnet, which was impressively quiet and refined, with little noise intrusion inside the cabin. It is also quite potent for such a big car, with a 0-62mph time of 8.2 seconds and potential top speed of 126mph.
Jeep's Quadra-Trac II four-wheel-drive system provides secure traction, even on the wet and greasy country roads which are the norm at this time of year. It returns 34mpg on the combined cycle, with a C02 emissions figure of 218g/km.
In the range-topping Limited trim of the car I briefly tested, it costs £37,795 on the road, but with a few options, like a performance pack which adds 20in wheels, better brakes and sports suspension, the price tops the £41,300 barrier.
LOTS has also been happening at a revitalised Chrysler which has recently introduced its interesting, and rather stylish Delta and Ypsilon models to the UK's crowded roads. The Delta model I briefly drove, certainly attracted plenty of attention from the Christmas shoppers, with its distinctive looks.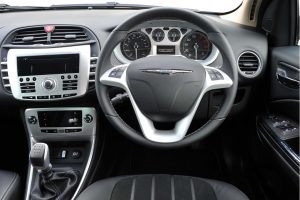 The design of the interior is also a bit different from the norm, so if you fancy a change, it's worth having a look at the current Chrysler range.
My little Delta had one of the latest 1.4-litre MultiAir engines under its bonnet, which provided nippy performance, with 0-62mph taking 9.2 seconds, a top speed of 126mph, and a combined fuel consumption figure of 49.6mpg, thanks to its Stop/Start system which was a boon in the busy traffic, switching the engine off at the lights, or in queues, and instantly restarting it when needed as soon as the clutch pedal is touched. It all helps to keep its C02 emissions down to just 132g/km.
On the whole, the car drives very well and provides a comfortable ride for its passengers, even over speed bumps and pot holes, although when it comes to parking, the rear three-quarter vision was a bit restricted due its bulky C-pillar.
The Delta range starts from £16,695, but the SE model I tested cost £18,495 in standard trim and just over £20,000 with a few optional extras ticked on the order form.