New Dacia Sandero review is no laughing matter!
ROAD TEST REPORT AND REVIEW: Dacia Sandero range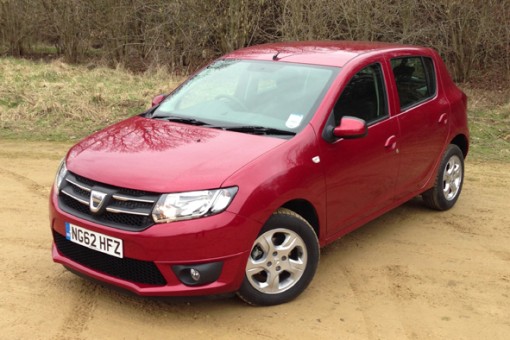 With bargain basement pricing, this budget Romanian offering has been the butt of Top Gear's jokes, but as Motoring journalist MARTYN COLLINS discovered during his Dacia Sandero roadtest, it's no laughing matter!
Butt of Top Gear's James May's jokes for over a year, Renault's budget brand Dacia has finally arrived in the UK along with the Sandero hatch. We already know it offers incredible value for money, but is there more to this compact hatchback?
Apart from the black bumpers of the entry-level Access which cheapen the look, the second-generation Sandero, designed in tandem with the latest Clio, looks neat and modern. At the front, the Sandero's styling is dominated by the large grille and badge, plus the curvy headlights.
Apparently, design boss Laurens van der Acker, was influenced by the latest Volkswagen Polo, but to be honest the styling is so generic you can see influences from most small hatches. Although the Renault link is the most obvious.
At the side, is it just me, or are the large, upright rear doors a nod to the second-generation Clio? The lower undercut gives some real definition to the flanks, too.
The Volkswagen influence is more obvious at the back of the Sandero, with the stylised rear lights. For me though, the most interesting part of the design has to be the curved, coupe-like rear window.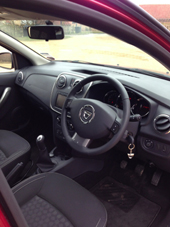 Inside, the driving position is quite upright and the standard seats are hard, however the ergonomics are fine. General fit and finish of the range-topping Laureate test cars we drove seemed in-line with the sub £10,000 prices. The tall dashboard design looks modern, especially with the optional MediaNav 7″ touchscreen multimedia system. It works in a similar way to the new Clio's R-Link system and distracts you from the scratchy, hard plastics the Sandero's dashboard is finished in.
Based on a modified Clio 2 platform, the 750mm of rear space almost seems like a class above, when you compare the Dacia to similarly priced rivals. There's also a 320-litre boot, with the practicality of a split/fold rear seat.
Access, Ambiance and Laureate trims are available now, with prices starting at £5,995. An estate version, just launched at the Geneva Motor Show, will follow later. I got the chance to try the 900cc TCe petrol and the 1.4-litre dCi diesel, both producing 90bhp. The other engine available is a 75bhp 1.2 16v petrol engine.
Renault expect the TCe engine to be the top seller. It will appeal due to its impressive 54.3mpg average fuel figure and the 109mph top speed. Although, I'm less impressed by the 120g/km CO2 emissions. I'm not sure what Dacia has done to this engine, as it's not as smooth or refined as it is in the Clio. Still, performance is more than adequate for most and I felt the gear change was smoother.
I'm less of a fan of the diesel. It might be the most frugal with a 74.3mpg average fuel consumption figure, but it is slow off the mark and a fair bit of diesel-drone makes it into the cabin. This is despite a top speed of 107mph and 0-60mph time of 12.1 seconds.
On the road, the Sandero is not a car to appeal to enthusiasts. The suspension doesn't feel very sophisticated for starters, lumpy around town and on the motorway it then becomes wallowy. There's lots of body roll in corners too, good thing then that the steering has plenty of feel and grip.
So to sum up, despite being more spacious than rivals and okay to drive, the Dacia Sandero will be bought more for the budget pricing, rather than its interior space and how it drives. Could it be a car of our times? We shall be watching Dacia sales figures with interest.
DON'T MISS OUR REVIEW OF THE DACIA DUSTER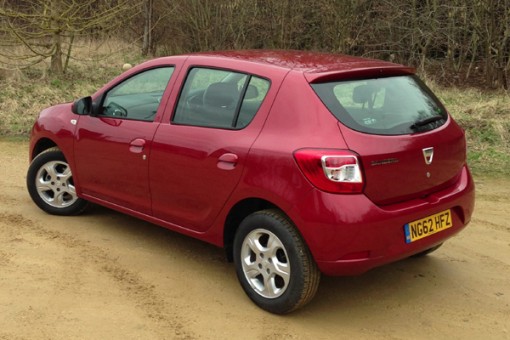 Rating:





THE VITAL STATISTICS
Model: Dacia Sandero
Body styles: 5-door hatchback
Engines: 90bhp 0.9-litre, 75bhp 1.2-litre, 90bhp 1.4 dCi
Trim grades: Access, Ambiance and Laureate
Prices: from £5,995
In the showroom: Now
Website: www.dacia.co.uk
Words and pictures: Martyn Collins
CLICK HERE and "Like" our Facebook page for regular updates and follow us on Twitter