Candy yellow Focus proves a bit of a lemon!
ROAD TEST REPORT AND REVIEW: Ford Focus Zetec S 5-door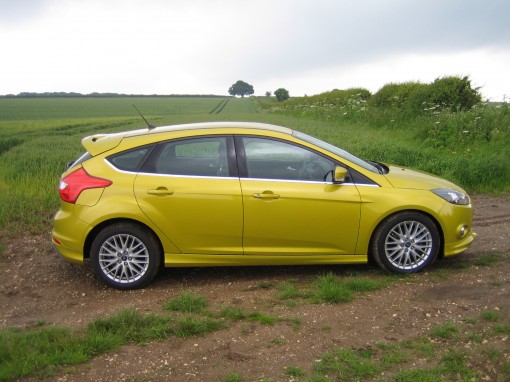 While the Candy Yellow colour scheme has proved to be a bit of a lemon, DAVID HOOPER marvels at the high-tech gadgetry in what is really an "ordinary" car.
LOVE it or hate it, you can't miss this Candy Yellow Ford Focus when you spot one out and about.
If you like it however, it seems you might be in the minority, as too few customers have been ticking the Candy Yellow options box on the order form, so Ford has dropped it from its range.
You could argue that as £745 option, that is one of the reasons people have been avoiding it – and not just because it is a tad on the garish side.
On the plus side, the Candy Red colour introduced at the same time on the new model, a lovely deep burgundy red metallic, has got good reviews from customers and is now available on the Mondeo as well, so perhaps the Candy Yellow colour is just too much of a lemon!
Road testing a Ford Focus has always been a pleasure, but today more so than ever before. The car feels well made and has won favourable reviews from customers who unsurprisingly, are buying them in their thousands.
F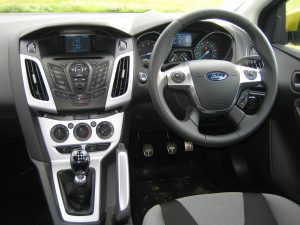 ord has recently raised a few eyebrows in the motoring world for introducing a 1.0-litre version of the car – a model I'm looking forward to reviewing in the near future. While on paper it may sound underpowered, word has it that in fact, the 125PS engine is surprisingly capable – but more of that to come soon.
The model I've been reviewing this week is the 1.6 EcoBoost engine, developing 182PS. With a 0-62mph time of 7.9 seconds, it's a nimble little performer, yet can still return up to 47.9mpg on the combined cycle, although during my road test, it only achieved 37.6mpg overall over a distance of around 350 miles.
It's comfortable, reasonably spacious, and at £22,495 including a few extras, well priced and very well equipped, but it is those few extras which have continued to impress me.
Bearing in mind the Focus could be described as a run-of-the-mill family car, perhaps even "ordinary", some of the technology on the car is really quite incredible – the sort of stuff you would expect to find on cars costing two or three times as much.
In this case, it comes as part of Ford's Driver Assistance Pack which costs £1,050, but includes Active City Stop, which will stop the car automatically at low speeds to hopefully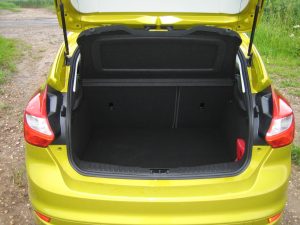 avoid, or at least lessen the damage of low speed nose to tail crashes. Then there are systems to help inattentive drivers stay on their intended course. Lane Departure Warning and Lane Keeping Aid alert you if you start to wander out of your lane by vibrating the steering wheel and illuminating warnings on the dash.
Perhaps though, it's the Traffic Sign Recognition system which is the most impressive. It reads the speed limit signs and displays them on your dash. Ok – you could argue that you should know what the speed limit is at all times, but it's certainly a useful aid and if it helps you avoid a speeding fine, then who's going to argue with that?
Then there are other systems which until recently have only been available on luxury cars. Automatic headlights which switch the main beam on and off when other vehicles approach, and blind spot warnings for those occasions when other vehicles disappear into your blindspot, are all really useful tools to keep you out of trouble and your no claims bonus intact.
The Ford Focus may be quite an ordinary car in many ways – but it just goes to prove that the technology in everday cars is now quite extraordinary – and surprisingly affordable!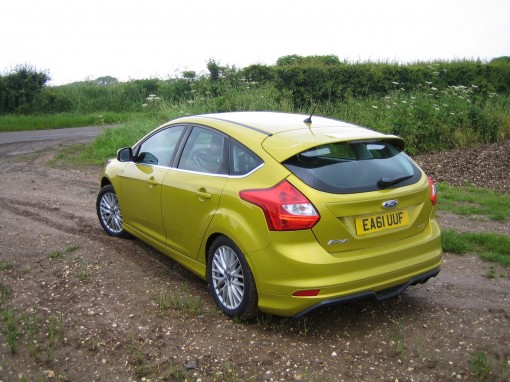 Rating:





THE VITAL STATISTICS
MODEL
Ford Focus Zetec S 5-door.
FORD FOCUS RANGE
From Ford Focus Studio 1.6 5dr (£13,995) to Titanium X 2.0 TDCi Powershift 5dr (£24,550).
ENGINE
1598cc, 182PS four-cylinder engine, driving front wheels through 6-speed manual gearbox.
PERFORMANCE
Top speed 138mph.
0-62mph in 7.9 secs.
ECONOMY
City: 37.2mpg.
Country: 57.7mpg.
Combined: 47.9mpg.
Fuel tank: 55 litres.
CO2 EMISSIONS
137g/km.
PRICE
£22,700.
WARRANTY
3 years/60,000 miles.
WEBSITE
www.ford.co.uk
• All data correct at time of publication.