Audi RS 5 Cabriolet is revving up for summer
ROAD TEST REPORT AND REVIEW: Audi RS 5 Cabriolet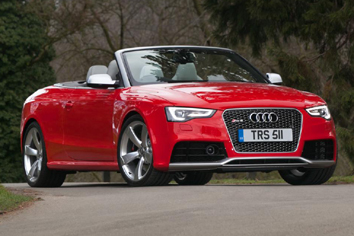 Summer should be here soon, so KEITH WARD goes topless at the wheel of an Audi Rs 5 Cabriolet
WITH summer approaching, thoughts turn to convertibles.  Despite our unpredictable weather, British drivers in huge numbers optimistically opt for the open-top experience.
In 2012 there were 55,211 new convertible cars registered in the UK, so more than 1,000 a week, accounting for 2.7% of the market, according to the Society of Manufacturers and Traders.
Audi are about to weigh in with the 155 mph RS 5 Cabriolet, powered by a hefty, hand-built, 450 PS V8, zipping it to 60 mph in well under five seconds.
With this sort of performance the wind-in-the-hair experience threatens to crank up to gale- around-the-cranium.  However, albeit at legal UK speeds, our preview jaunt found the driver unruffled, comfortably protected from the front by the sloping windscreen and from behind by a slotted-in deflector. Nothing more than you would expect from any latter-day convertible.
O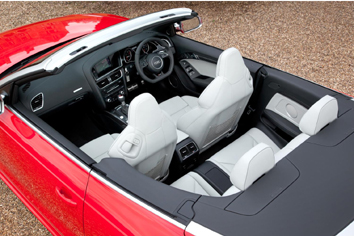 ur steed had the £460 extra of heated seats, eagerly switched on by my female passenger, but not the optional neck warmer you can find as standard on some much more modestly priced open-tops.
The Audi's "status" roof is of fabric, triple-layered for toughness and sound insulation. In a colour contrasting with the body's, it looks better than a hard top, enthuse the stylists and they may have a point. A ragtop is inherently not as quiet as a metal cover, Audi insisting only that this so-called acoustic hood "offers a degree of sound absorption that runs its fixed head counterpart remarkably close".
It is dealing, of course, with not only the usual surrounding outdoor sounds but behind you the impressive growling sports exhaust (£890 option) of that 4.2-litre V8.
An early concern on our drive was a disconcertingly bumpy ride. Not a puncture. We put it down to a combination of extra-low profile 275/30 tyres on big 20-inch alloys, fitted as an option instead of the standard 19-inch, together with the selectable suspension setting on "dynamic". It might have been fine on a smooth race circuit, as distinct from Britain's rough country roads.  Switching it to "comfort" solved it.  A case of too much technology for comfort?
The old fear about vandals slashing a soft top is dismissed.  "Much easier to throw a brick through the glass if you want to break in", smiled an Audi man.
What the hood does do impressively at the flick of a switch is either open, or fold away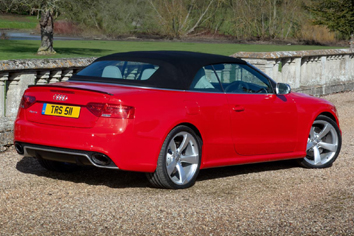 into the boot, within 17 seconds in a balletic sequence of swivelling panels, and at road speeds of up to 31mph, at whatever risk of distracting fellow road users.
The folded hood commendably takes up only 60 litres of the 380-litre boot, which itself can be extended to 750 litres by folding down both rear seatbacks.
There was no sign of scuttle shake from the RS 5's reinforced body, weighing in at nearly 1.9 tons, with aluminium front wings compensating for some of the added weight of the armoury.  Given the undoubtedly exhilarating, 4WD performance, our return of over 25 mpg was impressive.
The Cabriolet gets a fixed spoiler lip on the boot lid to boost downforce, needed more than ever if you opt to raise the top speed from a governed 155 to a governed 174 mph. If your topless motoring pleasure is to amble through the summer countryside, savouring its sounds and smells, the RS 5's potent power-fest is perhaps not for you.
Rating:





THE VITAL STATISTICS
MODEL: Audi RS 5 Cabriolet 4.2 FSI quattro S tronic
Body: Two-door convertible; fabric hood electrically operated; four seats
ENGINE: V8; 4163 cc; 7-speed S tronic; quattro permanent 4WD
POWER: 450 PS @ 8,250 rpm; max torque 430 Nm @ 4,000-6,000 rpm
PERFORMANCE: 155 mph (optional 174 mph); 0-62 in 4.9 secs
ECONOMY: On test 25.2; official combined 26.4; tank 61 litres
CO2 EMISSIONS: 249 g/km; tax band L; BIK 35%
PRICE: £68,985 as tested with options £76,420
ON SALE: Now
WARRANTY: 3 years/60,000 miles.
WEBSITE: www.audi.co.uk
• All data correct at time of publication.
• Also look at  BMW 3-series and Mercedes CLK/E Class cabriolets or as a cheaper alternative in this size the new Vauxhall Cascada.
CLICK HERE and "Like" our Facebook page for regular updates and follow us on Twitter