Audi's new A6 is ready for 'allroads' and all weather
ROAD TEST AND REVIEW: Audi A6 allroad 3.0 TDI quattro S tronic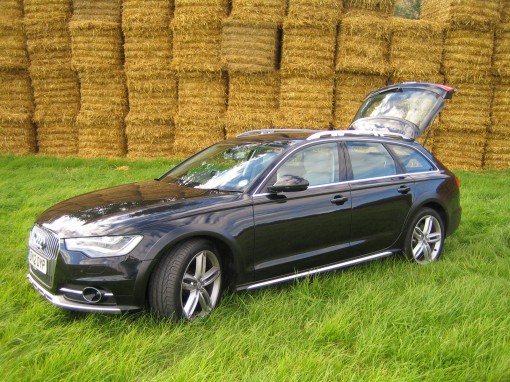 With the onset of winter weather just around the corner, DAVID HOOPER gets to grips with Audi's latest A6 allroad.
IF you want a spacious, comfortable car which will whisk you along in the lap of luxury, yet has the ability to go just about anywhere, then the new A6 allroad from Audi may fit the bill perfectly.
First impressions are those of a stylish estate car, or Avant, as Audi refers to its more able load carriers, but a glance below the waistline reveals clues to this car's underlying strengths.
With more than half the buyers expected to be business owners, many allroads will never see grass, let alone anything more challenging, but for those that do, the adjustable air suspension, permanent quattro four-wheel-drive and even a hill descent assist system endow it with surprising mud-plugging ability. It even has stainless steel trays to protect its underside from potential damage.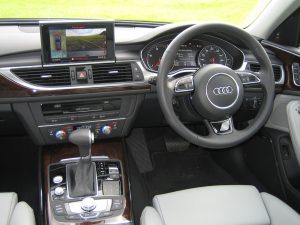 Of course, Audi's quattro all-wheel-drive system isn't just for providing traction off road – far from it. It's no secret that with all four wheels driving a car, it improves passive safety in every-day conditions, whether the weather be raining, freezing or snowing. Even on dry roads, the grip levels for those who like to "press on" can be phenomenal.
The model I've been testing around Lincolnshire's increasingly slippery, leaf-covered roads came with a 3.0-litre V6 diesel engine combined with a seven-speed S-tronic automatic gearbox. It's an impressive power plant – a refined and almost silent cruising companion on the motorway, but a potent performance car on a cross-country sprint.
The benchmark 0-62mph dash is dismissed in a sports-car rivalling 6.6 seconds, while its potential top speed of 147mpg is more than adequate, and during my test which involved a family-orientated mix of duties, the car returned an average 32.3mpg over a total distance of 350 miles.
With 245PS and 428lb ft of torque available, this is one rapid car, more than capable of despatching A-road traffic without a second thought, and on one of my favourite test routes, the amount of available grip was truly impressive. The gearbox changes gears seamlessly and the paddles behind the steering wheel made it more involving and enjoyable to drive quickly, although I would have preferred a sharper response to steering inputs, even in the Dynamic driving mode which can be selected from the Audi Drive Select system.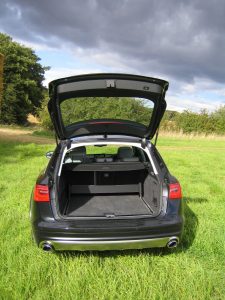 The A6 allroad is 14mm longer than the standard Avant and sits 185mm taller.
The beauty of an estate car is its practicality, and the A6 allroad is a great load-lugger. There's a generous amount of space with the rear seats in place, but a simple pull of a lever sees the seat backs throwing themselves forwards to create a huge load space. The optional load area fixing kit is a useful addition to stop things sliding around and can be positioned in various ways, quickly and easily.
Which brings us on to the options! The headline price for this car is £44,690, but with all the extras it came with, that soared to just under £65,000. That eye-watering figure did include some nice additions though, like a panoramic glass sunroof, a superb Bose surround sound system, sports seats, Grey Valcona leather upholstery and lovely dark brown Walnut wood inlays in the cabin.
However, I've saved the best till last – the advanced technology pack which costs £3,250 adds some really impressive kit, like adaptive cruise control with Stop&Go function which will follow the vehicle in front and adjust the speed of your car to match – right down to a complete stop and drive away! It works too, I tested it – with my foot hovering in very close proximity over the brake pedal!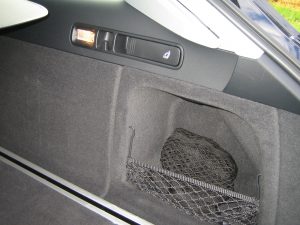 This pack also includes Active Lane Assist, which monitors the position of the car in its lane on a motorway and if it begins to stray out of its lane, perhaps because the driver isn't giving quite the attention he should be to the goings on around him, the car will actually turn its own steering wheel slightly to keep itself on track and in the correct lane.
It's a bit unnerving to see, and if you let go of the wheel the car knows and will tell you off – yes really!
In sunny California, it has recently been announced that cars will be allowed to drive themselves in the not too distant future. If you think it sounds far-fetched, believe me when I tell you that it isn't and several high-end cars on sale today, not just Audis like this one, already feature such systems, but in the UK aren't legally allowed to permit the driver to completely remove their hands from the wheel.
This technology of science fiction exists now – and it works – and I've been testing it on Lincolnshire's roads.
It's impressive stuff indeed!
CLICK HERE and "Like" our Facebook page for regular updates and follow us on Twitter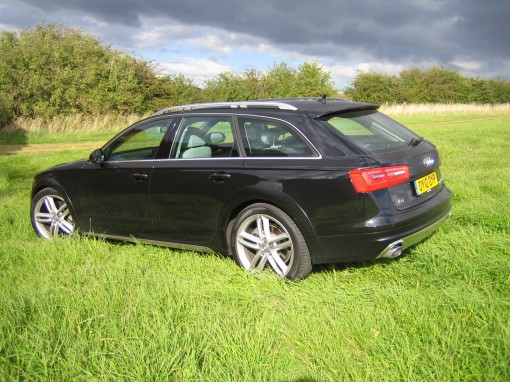 Rating:





THE VITAL STATISTICS
MODEL
A6 allroad 3.0 TDI quattro (245PS) S tronic.
AUDI A6 allroad RANGE: From 3.0 TFSI quattro 5dr (£45,020) to 3.0 BiTDI quattro 5dr (£49,445).
ENGINE
2987cc, 245PS V6 diesel engine, driving four wheels through 7-speed S-tronic gearbox.
PERFORMANCE
Top speed 147mph.
0-62mph in 6.6 secs.
ECONOMY
City: 38.2mpg.
Country: 50.4mpg.
Combined: 44.8mpg.
Fuel tank: 65 litres.
CO2 EMISSIONS
165g/km.
INSURANCE
Group 36.
PRICE
£44,690 (£64,740 with options).
WARRANTY
3 Years/60,000 miles.
WEBSITE
www.audi.co.uk
• All data correct at time of publication.