Alfa Romeo Giulia 2.0 Turbo 200bhp Super road test report and review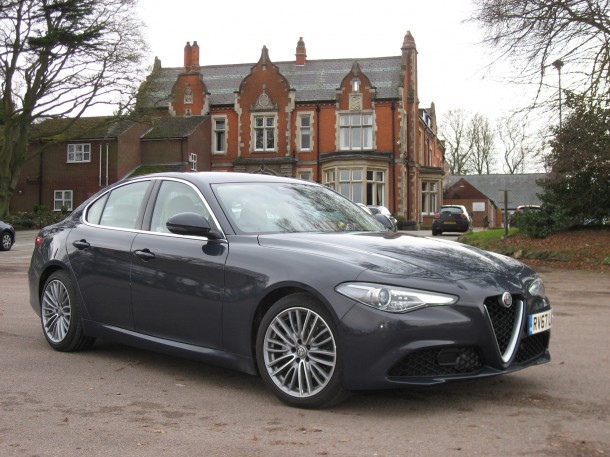 A bit of Italian style brings some welcome flair to the executive car market. DAVID HOOPER puts the Alfa Romeo Giulia through its paces.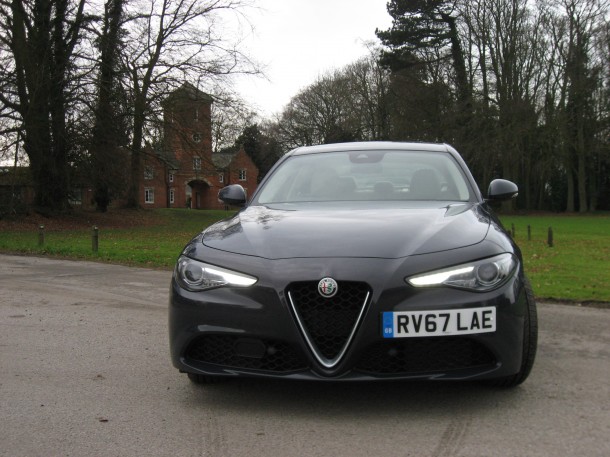 ALFA Romeo has recently launched some very smart new models and this Giulia is one of them… and very nice it is too.
With its deep Alfa grille and sleek sports saloon styling, the car looks superb, aided by the unusual Lipari Grey paintwork.
The interior is also very desirable with cream leather seats and carpets which after all only a few days of use started to look decidedly grubby. The walnut dash, part of the Lusso Pack which is a £2,750 optional extra, is a lovely, if costly addition!
The Giulia is a classy looking car, especially sitting on these smart 18in multi-spoke alloys, and its front engine, rear-wheel-drive format with either 2.0-litre petrol or 2.2-litre diesel engines will appeal to the enthusiastic driver.
Our test car featured the 2.0-litre petrol engine, mated to an eight-speed automatic gearbox. With 200bhp and a 330Nm torque available, it's quite a potent bit of kit, but on the road, didn't feel as quick as its on-paper figures would suggest thanks to its impressive levels of refinement.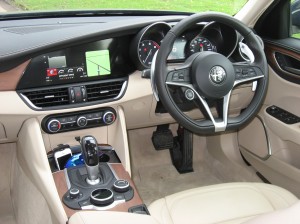 It's a good motorway car which carries its speed well, cruising very quietly at the legal limits and lapping up big distances without breaking sweat. Become a bit more active on the loud pedal, and bring the impressively large flappy paddles into play, and the car responds encouragingly. The driver can also select various driving programmes from its DNA switch with normal, sport and economy settings.
The steering is very sharp and reactive, maybe a little too much so as it took me a while to adjust my inputs at the tiller to be gentle enough for it not to be jerky, but it certainly lets the driver know what's going on at the sharp end.
In contrast, the eight-speed transmission is a smooth operator, and with the gearbox in sport setting gives a lovely little blip on the downshift, emulating the effect of heel-and-toeing to match the engine and gearbox speeds, thereby smoothing out the gearchanges.
Dynamically, as you would expect of an Alfa Romeo, the ride and handling is very good, firm enough to be sporty, soft enough to be comfortable, and the rear-wheel-drive layout gives a nicely balanced feel to the handling so loved by driving enthusiasts.
The interior is a very pleasant place to be and features an elegant mix of leather, a hand-stitched dashboard top and walnut wood trim which all combine to look very tasteful, if a little impractical with white carpets, while the iconic Alfa Romeo logo is stitched into the car's headrests. The start button is positioned unusually on the steering wheel, but that actually works quite well, although finding your way around the car's systems as not as intuitive as it could or should be and I thought the trip computers could be a lot better.
The windscreen wiper stalk is a bit different too, with a switch that you would normally expect to adjust the speed of the intermittent wiper settings actually controlling the wipers themselves, from off, to intermittent, to on etc, but it felt disappointingly cheap and I doubt it will have longevity.
Rear seat passengers are well catered for in terms of head and legroom, and the boot is a reasonable size.
All-in-all, I really liked Alfa's new Giulia, not only does it look great, it is good to drive and makes a refreshing change from the usual executive car suspects!
Rating: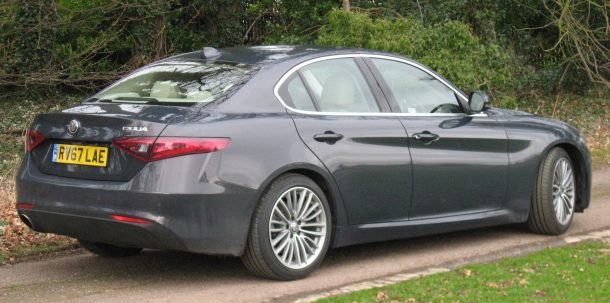 THE VITAL STATISTICS
MODEL: Alfa Romeo Giulia 2.0 Turbo 200bhp Super.
ENGINE: 1995cc, 200bhp four-cylinder petrol engine, driving front wheels through 8-speed automatic gearbox.
PERFORMANCE: Top speed 146mph. 0-62mph in 6.6 secs.
ECONOMY: City: 33.6mpg.
Country: 61.4mpg.
Combined: 47mpg.
CO2 EMISSIONS: 138g/km.
FUEL TANK: 58 litres.
INSURANCE: Group
PRICE: £31,580
WARRANTY: 3 years, 100,000 miles
WEBSITE: www.alfaromeo.co.uk
• All data correct at time of publication.