You asked for it, now you're gonna get it!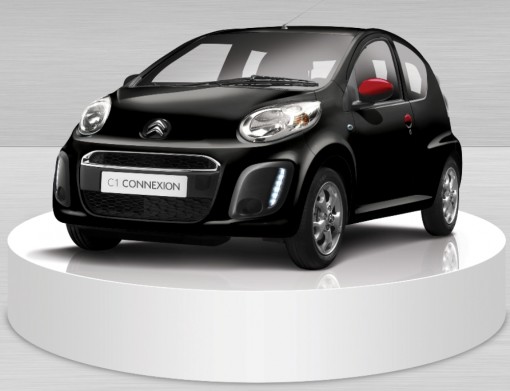 IT'S the car which Citroen fans asked for… or at least the C1 variety.
The French carmaker was well pleased with the response to its recent Facebook competition asking car fans what they would like to see in a C1 model.
And they had thousands of Facebookers tweaking and tarting up the popular little supermini.
And so, Citroen are going to put the "finished article" into production. The C1 Connexion special edition will begin rolling off the production line later this year. The crowdsourced Citroën C1 is the first production vehicle in the UK created as part of a collaboration with Facebook.
The car creation process took place during April via a specially designed app on Citroën UK's official Facebook page. Citroën opened a virtual 'factory floor' where members of the public were invited to choose what the special edition model should look like and what features it should have.
The most popular configuration was a 3-door version finished in a stylish Caldera Black body colour with Scarlett Red exterior and interior detailing, together with stylish alloy wheels. The C1 Connexion will be based on the New Citroën C1 1.0i 68 manual in VTR trim, an already well specified model that includes day-time running LEDs, air conditioning and electric front windows.
There were more than 24,000 configurations of the C1 Connexion submitted by the public and around 10,000 entries were received in a competition to win one of the first production models. Over the campaign period, Citroën grew its Facebook fan base by more than 13,500 to almost 93,000 fans.
Melina Kacherou-Carage, Head of Digital Marketing at Citroën UK, commented: "This project has really captured the enthusiasm of the Facebook community. We've had thousands of configurations, so much positive feedback and now the first images of C1 Connexion, which will be ready to go on sale later in the year. You liked it, now we're making it."
The next phase of the C1 Connexion project has also been launched. Citroën is now inviting the public to help design the badge for the model. But you will have to be quick as submissions close on May 18. For more details, log on to www.facebook.com/citroenuk and click on the 'New C1 Connexion' tab.