The models proud of their wider rear ends!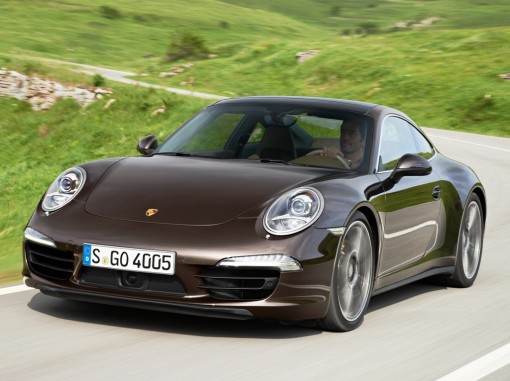 PORSCHE has added two all-wheel-drive models to its new generation 911 range. The 911 Carrera 4 and 4S both benefit from the newest version of the Porsche Traction Management (PTM) system which helps put all that power down with greater safety and roadholding in all weather conditions.
To help the two new models stand out from their siblings, the Carrera 4 and 4S sport wider rear wheel arches than the two-wheel drive versions of the 911. In fact, the arches now extend by a further 22mm to make room for the now 10mm wider rear rubber.
The new all-wheel drive 911 is available in four versions; the 911 Carrera 4 and 911 Carrera 4S, and as a Coupé and Cabriolet. Each model shares identical characteristics to the rear-wheel drive versions, including lightweight body design, suspension, engine choices and gearbox options; the only exceptions are modifications related to the all-wheel drive. The innovative aluminium-steel composite body construction of the 911 helps deliver a weight saving of up to 65kg versus the prior model; consequently, despite the higher level of performance, the new 911 Carrera 4 models also offer up to 16 per cent lower fuel consumption.
All models have a seven-speed manual gearbox as standard, and the seven-speed Porsche Doppelkupplung (PDK) twin-clutch automatic transmission is available as an option. The 911 Carrera 4 features a rear-mounted 3.4-litre flat-six engine developing 350 hp (257 kW), and can sprint from 0-62mph in as little as 4.5 seconds (Cabriolet 4.7 sec) and reach a top speed of up to 177 mph (Cabriolet 175 mph), depending on specification. Fuel consumption with PDK is 32.8 mpg (203 g/km CO2) for the Coupé and 32.5 mpg (205 g/km CO2) for the Cabriolet.
The 911 Carrera 4 S is powered by a 3.8-litre flat-six engine that produces 400 hp (294 kW) and delivers acceleration from 0-62mph in 4.1 seconds (Cabriolet 4.3 seconds) and a top speed of 186 mph (Cabriolet 184 mph). Fuel consumption with PDK is 31.0mpg (215 g/km CO2) for the Coupé and 30.7 mpg (217 g/km CO2) for the Cabriolet.
In the 911 Carrera 4 and 4S, a new menu in the instrument cluster informs the driver how the PTM all-wheel drive is currently distributing engine torque between the front and rear axles. In addition, coincident with the launch of the 911 Carrera 4 models, Porsche is introducing the option of Adaptive Cruise Control (ACC) – which controls distance to traffic ahead and vehicle speed — across the 911 model range. When ordered with PDK, the ACC system adds the safety function Porsche Active Safe (PAS), which can help prevent front-end collisions.
In addition, a new sliding glass sunroof is now available as an optional feature for all 911 Coupé models; and driving a 911 with a manual gearbox in combination with the optional Sport Chrono pack now has added responsiveness. In Sport Plus mode, the system automatically double-declutches during downshifts.
The new 911 with all-wheel drive builds on the success of the previous generation of Carrera 4 models, of which a total of about 24,000 units have been sold since 2008. This represents a 34 per cent share of total sales of second generation 'Type 997' models. This previous generation introduced three of the greatest development steps in powertrain technology that the 911 with all-wheel drive ever made: new engines with direct petrol injection, the Porsche Doppelkupplung (PDK) gearbox and electronically-controlled Porsche Traction Management (PTM). In July 2011, Porsche crowned the model series with the 911 Carrera 4 GTS, whose 3.8-litre engine was boosted to 408 hp (300 kW).
The new Porsche 911 Carrera with all-wheel drive will make its first public appearance at the 2012 Paris International Motor Show in September ahead of arriving in UK Porsche Centres towards the end of the year.
The Carrera 4 Coupe is priced from £77,924, and the Carrera 4S Coupe priced from £87,959. The 911 Carrera 4 Cabriolet is priced from £86,583.00, and the Carrera 4S Cabriolet from £96,619.
In addition to the all-wheel drive with Porsche Traction Management, standard equipment on all models includes full leather interior, 4.6-inch colour touch-screen Porsche Communication Management with satellite navigation, automatic climate control, Bi-Xenon headlights, a universal audio interface offering MP3 connectivity and a three year warranty.
Fitted to every 911 is a Porsche Vehicle Tracking System (VTS), a sophisticated vehicle security package approved to Thatcham Category 5 standard, and customers are also able to explore the potential of their new car by participating in a complimentary course at the Porsche Experience Centre, Silverstone.