Wales all ready for WRC action and excitement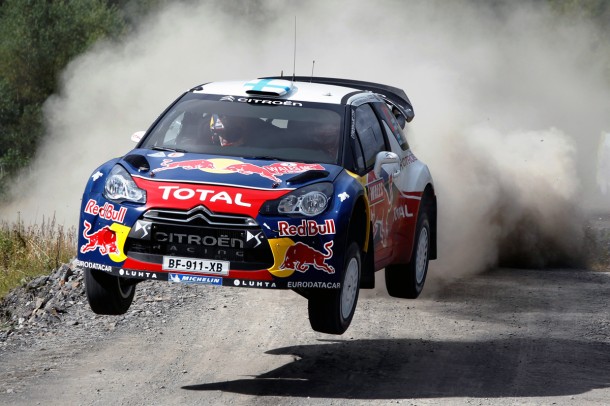 YOU could just sit and watch the highlights on the TV, but why not get out there and see the Wales Rally GB action for yourself?
The revamped event takes place this Thursday to Sunday (November 14-17) and months of work and planning will see some spectacular action in the legendary Welsh forests.
The newly crowned 2013 WRC champion Sebastien Ogier heads the star-studded field as the 2013 FIA World Rally Championship reaches its thrilling conclusion. There will also be two past Wales Rally GB winners from Scandinavia, Mikko Hirvonen and Jari-Matti Latvala. The established rally aces will be joined by former F1 grand prix winner Robert Kubica and Olympic gold medallist Amy Williams MBE.
The high-speed show blasts off in Snowdonia on Thursday evening following a glittering Ceremonial Start in front of Conwy Castle. In total the competitors face 22 classic special stages, all run against the clock, before the winner is crowned back in Llandudno on Sunday afternoon.
The event's move to north Wales not only features a new Headquarters and Service Park in Deeside but also the inclusion of three exciting new, family-friendly RallyFest Stages at Sweet Lamb (Friday), Chirk Castle (Saturday) and Kinmel Park (Sunday). Aimed at providing a full day's entertainment for all ages, these RallyFests include big screens, live music, car displays plus a host of other fun-filled attractions. There's also live music on offer at the Service Park on Friday and Saturday evenings.
"It all adds up to four incredible days of fabulous entertainment," said Andrew Coe, Chief Executive of rally organiser International Motor Sports. "An unbelievable amount of work has gone into creating what's really a totally new event based in north Wales, and everything is now all set for what's going to be some cracking World Championship action. I can't wait for the sporting show to start."
2013 WALES RALLY GB TIMETABLE
Thursday 14 November
07:00-09:00 Free Practice Llandegla
10:45         Qualifying Stage          Llandegla
13:30         Start order selection Deeside Service Park
16:00 onwards WRC cars on display Llandudno Promenade
17:15         Autograph signing Venue Cymru, Llandudno
18:30         Ceremonial Start          Conwy Quay
19:05         Special Stage 1  Gwydyr
19:38         Special Stage 2  Penmachno
20:42         Special Stage 3  Clocaenog 1
22:08         Service Deeside Service Park
Friday 15 November
06:30         Service Deeside Service Park
09:37         Special Stage 4 Hafren 1
10:20         Special Stage 5 Sweet Lamb 1 (RallyFest)
10:37         Special Stage 6  Myherin 1
12:28         Remote Service Newtown
13:43         Special Stage 7  Hafren 2
14:26         Special Stage 8 Sweet Lamb 2 (RallyFest)
14:43         Special Stage 9 Myherin 2
18:10         Service Deeside Service Park
19:15         K live Deeside Service Park stage
Saturday 16 November
06:00         Service Deeside Service Park
08:29         Special Stage 10 Gartheiniog 1
08:58         Special Stage 11 Dyfi 1
09:40         Regroup Corris
10:33         Special Stage 12 Gartheiniog 2
11:02         Special Stage 13         Dyfi 2
12:45         Special Stage 14         Dyfnant 1
14:22         Special Stage 15         Chirk Castle 1 (RallyFest)
14:33         Special Stage 16         Chirk Castle 2 (RallyFest)
15:44         Service      Deeside Service Park
17:45         Joseph Whelan live Deeside Service Park stage
19:15         Republica live     Deeside Service Park stage
20:15         Firework display Deeside Service Park
Sunday 17 November
06:30         Service Deeside Service Park
08:56         Special Stage 17         Dyfnant 2
09:56         Special Stage 18 Penllyn
11:06         Special Stage 19 Clocaenog 2 (Power Stage)
12:03         Special Stage 20         Kinmel Park 1 (RallyFest)
12:12         Special Stage 21 Kinmel Park 2 (RallyFest)
13:02         Special Stage 22         Great Orme
13:00 onwards Ceremonial Finish Llandudno
Tickets are available from ticket offices at Venue Cymru and the Deeside Service Park. Fans can also can take advantage of revised ticket pricing with 'on the gate' adult entry to individual special stages reduced to just £15* on a first come first served basis. Full information on tickets can be found on the Wales Rally GB website at: www.walesrallygb.com
* Ticket includes a free Wales Rally GB programme (cover price £7.50).Terms and conditions may apply