Vintage adventurer bids to set cross-USA record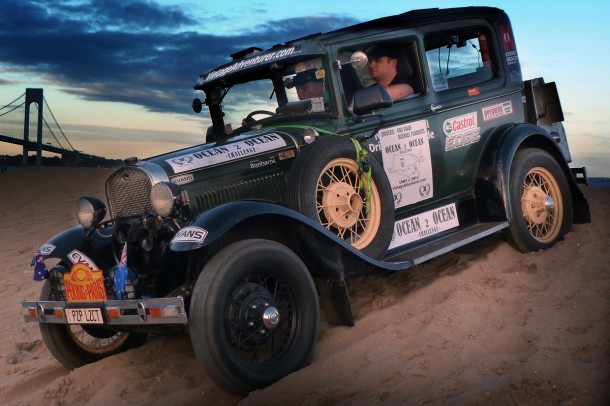 IF at first you don't succeed… that seems to be the motto of adventurer Rod Wade.
But he's not any old adventurer, Rod does things the vintage way.
On Friday, November 22, he is making his second bid to break the world record for the fastest crossing of the USA from New York to California in a pre-World War Two car.
Australian Rod and co-driver Michael Flanders make their attempt on the 2,947-mile journey in their 1930 Ford Model A, departing Staten Island at 00:01am with the aim of reaching Venice Fishing Pier in under 60 hours, giving an estimated arrival time of the morning of Sunday, November 24.
The pair will be supported by a 1988 Plymouth retired police car that will act as a media vehicle. The police car will carry parts and spares as well as New Jersey garage owner and photographer Ricardo Da Cruz, Pennsylvania engine builder Ora Landis and the team's media manager Andrea Seed from England.
Prior to the start of the challenge, Rod will fill a bottle with water from the Atlantic Ocean that will then be poured into the Pacific Ocean upon arrival at Venice Beach, Los Angeles, hence the title "Ocean to Ocean Challenge – America". That's when the clock will stop and a new world record will be set.
The crew's previous attempt ended in heartbreak and disappointment when, after 38 hours, the Ford's crankshaft broke after they had just travelled through Amarillo, Texas.
Rod said: "We were devastated when the previous attempt failed but it did two things – taught us a few lessons that have helped us plan the second attempt and made us more determined than ever to get the record set!"
The whole reason for setting the World record is to raise awareness and funds to support kidney disease suffers in the USA and the American Kidney Fund. With kidney disease affecting Rod's wife and daughter, he has raised thousands of dollars for Kidney Health Australia (KHA) and now is looking to support kidney sufferers in the USA.
Rod added: "The money we raise will allow us to outfit RVs and campervans with dialysis machines so people requiring dialysis can have a little personal freedom to travel and enjoy life, instead of needing to be constantly within reach of a machine at their home, clinic, or hospital."
The Ocean 2 Ocean Challenge USA pays homage to H. Nelson Jackson and Sewall K. Crocker, the first to drive coast-to-coast across America 110 years ago.
For more information on the Ocean to Ocean Challenge, the Vintage Adventurer and the latest updates, visit www.vintageadventurer.com