Vietnam bikes join World of Top Gear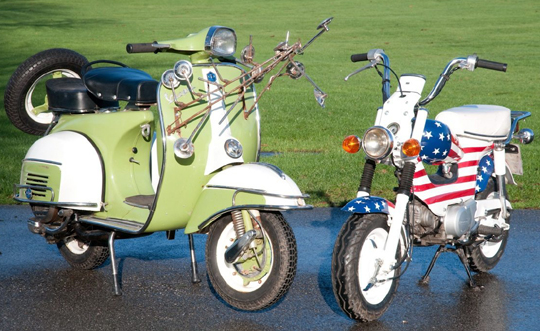 TWO motorcycles that featured in the 2008 Top Gear Vietnam Special have been purchased by the National Motor Museum at a recent Bonhams auction.  They are now on display in the museum's popular World of Top Gear exhibition.
The motorcycles, a 1967 Piaggio Vespa 150cc VBC Super and a c.1973 Honda 50cc Chaly took part in the popular TV programme's 2008 Vietnam Special when the show's presenters, Jeremy Clarkson, James May and Richard Hammond, were challenged to travel the entire length of the  country in eight days. 
The adventure began in Saigon where the three presenters were each given 15-million Vietnamese dong to buy vehicles. Unfortunately VND 15 million equalled only £600, nowhere near enough to buy a car so, as a last resort and to Clarkson's great dismay, they decided to buy motorcycles, May a 50cc Honda Club, Hammond a Russian-built 125cc Minsk and Clarkson a Piaggio Vespa; the scooter which mobilised an entire generation of Italians in the immediate post-war years and went on to became part of youth culture in the 1960s as favourite transport of the fashion conscious. 
The back up vehicle was the Honda Chaly, painted in the distinctive Stars 'n Stripes livery of the 'Captain America' Harley-Davidson chopper, ridden by Peter Fonda in the iconic 1969 movie, Easy Rider. Equally tastefully, it had been fitted with an iPod audio system continuously playing Bruce Springsteen's 'Born in the USA'.  Probably quite wisely, the presenters decided that riding the Chaly would be inappropriate in a country that had been embroiled in a savage war with the United States not that long ago.
Since the odyssey's conclusion, Jeremy's Vespa and the Stars 'n Stripes Honda Chaley, have been on display at the Saigon Scooter Centre in 'as last used' unrestored condition.  They now join the line-up of Top Gear vehicles created by the presenters for some of their most ambitious challenges on the TV show over the years, which are currently wowing visitors to the Beaulieu attraction.
Fans of the show will also experience the Top Gear 'Enormodrome' which aims to recreate the feel of the Top Gear studio.  As well as regular features from the programme including the Cool Wall and Celebrity 'Lap Time' boards, visitors can watch an exclusive video presentation from behind-the-scenes at the Top Gear HQ with Jeremy, Richard and James plus clips from the show featuring the cars on display.