New Coupe-Cabriolet completes Megane range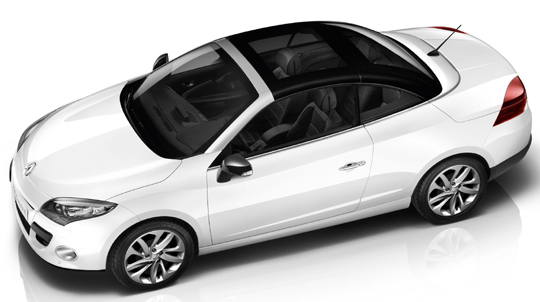 RENAULT has released its new Mégane Coupé-Cabriolet, which rounds off the renewal of the New Mégane family in style with introduction of the line-up's sixth body type. 
The newcomer's striking looks combine the elegance of a coupé with the promise of the thrills that go hand-in-hand with driving a cabriolet. 
Its elegant looks are underpinned by the large glass roof which tells you that this is unmistakably a cabriolet, even in its coupé configuration. This high-gloss finish, black glass roof contrasts with the satin-effect chrome windscreen frame.
The dark red tail lights feature a linear lighting pattern and LED brake lights to provide a distinctive rear lighting signature. 
The dashboard is identical to that of Mégane hatchback, but the seats offer additional lateral support, while the 'butterfly wing' door trim panel is specific to the Coupé-Cabriolet and adds to the newcomer's appeal. 
The new Mégane Coupé-Cabriolet builds on the strengths that forged the success of its predecessor – including a large, folding glass roof and a raft of user-friendly equipment.
Renault says owners will be able to enjoy unruffled open-top motoring thanks to the forward position of the windscreen and a fixed glass wind deflector, situated behind the rear head restraints.
The car promises outstanding handling performance thanks to a stiffer chassis and a new electric power steering system, and a broad choice of efficient and eco-friendly powertrains, including the all-new automatic EDC (Efficient Dual Clutch) transmission. 
The new Mégane Coupé-Cabriolet is manufactured alongside Scénic and Grand Scénic, at Renault's Douai plant, in France, so it benefits from the experience gained since the beginning of the Mégane programme, including the assembly of the former-generation Mégane Coupé-Cabriolet. 
The company says the new Mégane Coupé-Cabriolet is an elegant illustration of Renault's new brand signature, 'Drive the Change'.