Tufty to star in new exhibition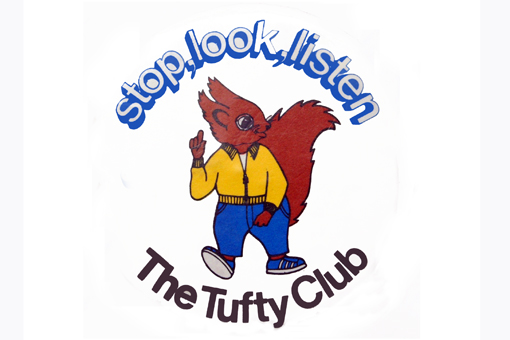 IT is six decades since road safety champion Tufty squirrelled his way into the nation's psyche.
The Royal Society for the Prevention of Accidents (RoSPA) later retired the road safety squirrel, but Tufty Fluffytail will be the star of a new exhibition.
The furry friend takes his place in an exhibition exploring international state-related propaganda from the 20th and 21st centuries, which opens on  May 17.
Tufty, a red squirrel with signature blue and yellow clothing, was created by the late Elsie Mills MBE in 1953 to help communicate simple safety messages to children. Now, the ever-popular creature, who was joined in his adventures by Minnie Mole and Willy Weasel to name a few of his companions, will feature in the British Library's exhibition Propaganda: Power and Persuasion, from May 17 to September 17.
The exhibition, which covers state-related propaganda from around the world, will be split into six sections: origins; nation; war; enemy; health; and, propaganda in the 21st century. It will feature Tufty memorabilia from the British Library's archives, including a bag and greetings card, plus a RoSPA poster from the 1960s featuring statistics about children and road accidents. Tufty is displayed alongside other examples of the ways in which state organisations, and those with close links to the state, attempt to change behaviour and influence attitudes on a range of issues relating to health and risky behaviour.
Tufty had a long and varied career in road safety. In 1961, the Tufty Club was set up as a nationwide network of local groups through which millions of children learned about road safety. At its peak, there were 24,500 registered Tufty Clubs. Tufty's image was changed to keep up with the times in 1979 and again in 1993. Then in 2007, he made a guest appearance in the cult BBC series Life on Mars.
Tom Mullarkey, chief executive of RoSPA, a safety charity with a history stretching back 97 years, said: "The exhibition is a wonderful opportunity to mark Tufty's 60th birthday and to acknowledge his contribution to society. Tufty was an iconic aid to road safety education, teaching generations of children right through the 60s and 70s and into the 80s and 90s.
"Although it might seem strange to consider him as propaganda, the British Library's exhibition is a fitting reminder of Tufty, his powers of persuasion and his enduring legacy as artwork."
Jude England, head of social sciences at the British Library and curator of Propaganda, said: "Tufty is featuring in our exhibition as a wonderful example of a successful propaganda campaign. At its peak in the early 1970s, around two million children were members of local Tufty Clubs.
"The best public health campaigns use a number of techniques to relate their messages, ranging from shocking to humorous; Tufty's appeal lay in the friendly images and accessible language used, for example, in the 'kerb drill'. We expect that the Tufty exhibits will evoke childhood memories for many of the visitors to the exhibition."
The British Library is based in Euston Road, London. The exhibition opening times will be 10am-6pm on Mondays, Wednesdays, Thursdays, and Fridays, 10am-8pm on Tuesdays, 10am-5pm on Saturdays, and 11am-5pm on Sundays. Last admission is an hour before closing. See www.bl.uk/whatson/exhibitions/propaganda for ticket information.
Tufty has his own web page – www.tuftyclub.org.uk – and still receives emails from former Tufty Club members. Although Tufty is now retired, RoSPA remains active in tackling the principal cause of death among children – accidents – through its work on the road, in the home, at leisure and at school. See www.rospa.com for more details.
RoSPA still produces a range of Tufty educational materials for use by children's groups, teachers and road safety professionals, available at www.rospa.com