Loeb aims for straight eight in Rally Argentina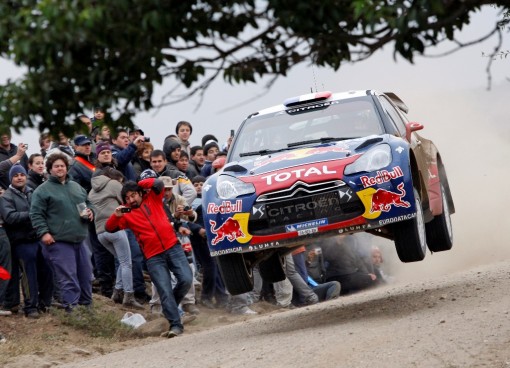 SEBASTIAN Loeb will be hoping lucky seven will become great eight in the Rally Argentina.
The world rally superstar has won the event seven times continuing a great run for the Citroen team.
Rally Argentina is the fifth round of the world championship. It will see the return of Loeb and Daniel Elena in the DS3 WRC car.
The nine-time world champions will line up alongside Mikko Hirvonen and Jarmo Lehtinen for the Citroën Total Abu Dhabi World Rally Team.
As was the case in Sweden, Dani Sordo and Carlos del Barrio will be competing in the Abu Dhabi Citroën Total WRT's car.Very much like Monte-Carlo or Finland, Rally Argentina is one of the WRC's special rounds.
A typically Latin atmosphere, passionate crowds and the sublime beauty of the surrounding countryside combine to make this an event that every crew dreams of winning. In fact, the last eight times it has featured in the WRC, a Citroën driver has topped the podium, with Carlos Sainz's victory in 2004 followed by seven wins for Loeb.
This rally is therefore an eagerly awaited event for fans of the brand, especially as it will see the return of Sébastien Loeb and Daniel Elena.
Ahead of the competition, the crews took part in a series of promotional activities in Buenos Aires, before heading to Cordóba for a roadshow held in the city on Sunday afternoon.
Recce starts on Monday, as the event gets underway a day earlier than in recent years. The rally is therefore scheduled to finish on Saturday, May 4, after three days of racing.
The route is mainly made up of conventional stages, with plenty of long tests. The two runs on Ascochinga/Agua de Oro (51.88km), Santa Rosa/Villa del Dique (40.69km) and Amboy/Yacanto (39.16km) make up almost two thirds of the total distance of the timed sections.
Unbeaten in Villa Carlos Paz since 2005, Loeb and Elena start their third rally of the season with their sights clearly set on maintaining their record here.
"It's difficult to say whether not competing in the last two rounds will affect my pace at the start of the rally," said Loeb. "But I'll obviously be aiming to secure the best possible result."
In 2012, Mikko Hirvonen pushed Sébastien Loeb all the way, before making sure of a one-two for Citroen. The Finn hopes to enjoy the same level of performance this year.
Dani Sordo, the third Citroen Racing driver competing in Argentina, has also finished as runner-up, back in 2009 on his last outing in a C4 WRC. Last year, the Spaniard looked very comfortable here when running in third place in his first race in a Fiesta, before he was let down by a mechanical failure.
http://www.wrc.com/news/the-wrc-in-2013-10-reasons-to-get-excited/?fid=18161