Porsche 911 Turbo just gets better and better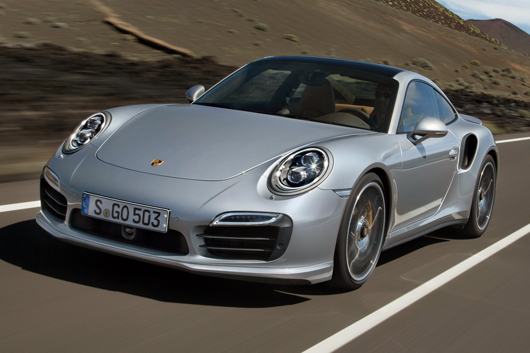 IT is now four decades since the first prototype Porsche 911 Turbo appeared… but it has lost none of its magic.
The latest version, the new Type 991 generation 911 Turbo and Turbo S combine the virtues of a full-blown race car with a use-anytime road vehicle.
Improvements include new all-wheel drive running gear with active rear axle steering, adaptive aerodynamics, full-LED headlights and up to 560hp from the flat six-cylinder twin-turbocharged engine.
The Porsche Dynamic Chassis Control (PDCC) active anti-roll system, which is offered for the first time on the 911 Turbo models, increases the dynamic performance potential even more. This system is standard equipment on the 911 Turbo S.
The standard 'sound symposer' intensifies the driving experience further still; transmitting induction sounds of the turbo engine to the passenger compartment via a speaker diaphragm.
Porsche continues to be the only car maker to offer twin turbochargers with variable turbine geometry on a petrol engine.
Power is transferred to the drivetrain via a seven-speed dual-clutch transmission (PDK), which enables an auto start/stop function with engine shut-off. Fuel efficiency improvements have reduced fuel consumption by up to 16 per cent to 29.1 mpg; these figures apply to both models.
For an even faster and more precise power distribution to the two axles, Porsche has developed a new all-wheel drive system (PTM) with an electronically controlled and activated multi-plate clutch.
The introduction of rear axle steering to all 911 Turbo models improves both track driving and everyday performance of the two new sports cars immensely.
Porsche has developed an active aerodynamic system on the new 911 Turbo models for the first time.   It consists of a sturdy, retractable three-stage front spoiler — whose segments can be pneumatically extended — and a deployable rear wing with three adjustable positions.
The interior was completely redesigned in both 911 Turbo models, building on the styling themes of the 911 Carrera family. The Turbo S offers an exclusive interior in a Black/Carrera Red colour combination and Sport Seats Plus with 18-way adjustment and position memory. In addition, the seat backrest shells are leather upholstered with double cap seams and various elements in Carbon Look. As with the prior model, a Bose Surround Sound audio system is standard; however, a higher output Burmester upgrade is also available as an option for the first time.
A radar-controlled cruise control system, camera-based road sign recognition and speed limit recognition are other new options offered.   The new 911 Turbo models are available to order now from Porsche Centres in the UK and Ireland.
The Turbo is priced from £118,349 and the Turbo S from £140,852. First right-hand drive deliveries will arrive in September.