Lancia coupe has timeless air of elegance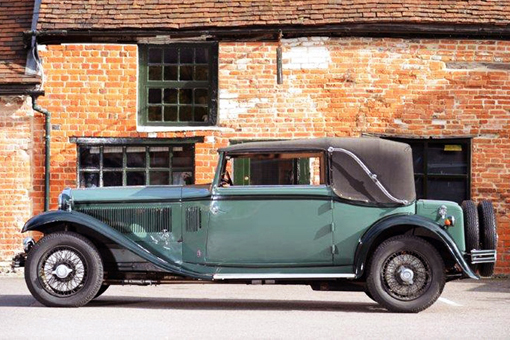 THERE was a time when the car to be seen in was a gorgeous droptop coupe.
Film stars, aristocrats and the very rich would glide past in a chic machine well beyond the price of most folk.
Well, it still won't be cheap, but now you can lay your hands on a classic piece of motoring history.
Coupes come in all shapes and sizes but for timeless elegance that's guaranteed to turn heads wherever it goes, then this 1933 Lancia Astura by Pinin Farina must take some beating.
Indeed, its desirability is reflected in its estimate price of between £95,000 to £110,000 for the Silverstone Auctions hosted International Trophy Sale next Friday (May 17).
The even better news for pre-war car aficionados is that two other collectable models with a combined age of 164 years are also being offered in the auction held at Silverstone circuit.
However, undoubtedly the star of the 'golden oldie show' is the second series drophead coupé which was converted into its current appearance by the famed Italian car designer Pinin Farina some 80 years ago.
The result is what you can still see today, proof if it was needed that what looked good some eight decades ago still commands admiration today.
However, it's not just its appearance that makes this car very tempting but also its 30 year restoration. The engine was rebuilt to include freshly bored cylinders, new crankshaft bearings, plus a complete overhaul of the valve mechanism.
Meanwhile, the first of the other two pre-war models for auction is a 1927 Studebaker Commander Big Six, estimated at between £12,000 to £15,000, which conjures up images of the prohibition era.
Indeed, at a time when alcohol was in scant supply in the US, at least such cars as the Studebaker Commander could attract attention away from life's other pleasures.
What's more, the imposing looks are matched by the impressive ruggedness — after all, this car was in action in the early years of the twentieth century when roads left a lot to be desired.
Meanwhile, just eight years younger is a 1935 Austin Ruby Seven. Home-grown to the core, it would definitely seem that less is more, in this instance proven by the fact that it was consistently one of the best-selling cars of its era.
Offered without reserve, it could be a great opportunity to enter the exciting world of pre-war car ownership for a small outlay.
For more information about these lots, as well as the other classic and race cars on offer at the International Trophy Sale, visit www.silverstoneauctions.com.