Nissan aims to win a new Friend or two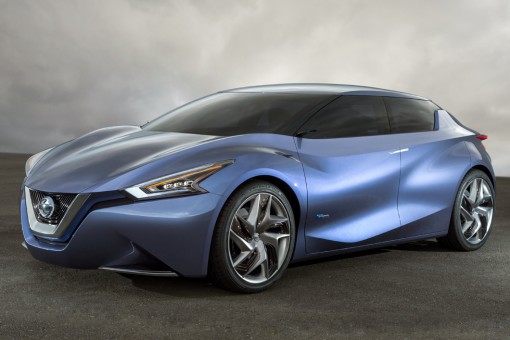 A FRIEND in need is a friend indeed… and Nissan clearly feel that way.
Today they have revealed a concept four-seat sedan, the Friend-ME.
Nissan say it's aimed at a new generation of car buyers, particularly in China, where the strict policy on having children means big family cars are unnecessary.
Instead, the company believes that quality time spent with friends and peers will be the driving force behind their choice of car.
So the Friend-ME has an assertive, imposing exterior featuring boldly flowing sculpted lines, a confident creature of the night, meant to be seen in bright city lights.
The concept is applicable globally, but the genesis of Friend-ME was Nissan's research into the aspirations of customers destined to emerge as the world's largest single market segment, the 240 million Chinese born in the 1980s.
Specifically, Friend-ME features a low and wide stance with short front and rear overhangs giving a chunky, aggressive and sporty impression. The design's energy flows from the 'V-motion' shaped grille and streams through the bonnet and shoulder lines while the headlamps and rear combination lamps are accentuated by its unique boomerang-shaped lighting signature.
The profile of the vehicle completely describes the progressive translation of 'Distilled Da Qi'. The thin and light floating roof and kick-up shape around the C-pillar resonates well and produces sophisticated harmony.  Likewise, the Neon Grey exterior colour — specially developed to appeal to tech-savvy youthful tastes — shows its lines to full effect at night.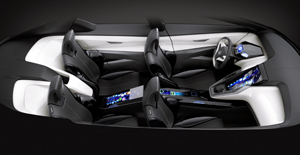 Inside, front and back, driver and passenger, all four seats are separate with the same high-tech style and status, because in this cabin all aboard are peers — equals. And all share the same information as the driver: Speed, navigation, fuel remaining — everything.
Empowering all four adventurers is a unique centre console stretching from the dash to between the rear seats — an iconic monolith in an onyx-black finish. Screens visible from each seat blend seamlessly with the surface, only becoming apparent as they display whatever contents the buzz of the moment demands. Whoever finds cool content can transfer it from his mobile to the on-board screens so all can share in the fun.
Nissan Friend-ME has been carefully designed as a dream within reach of young customers in China. Based on an existing Nissan sedan architecture, it requires a minimum of unique components. The ecologically efficient PureDrive hybrid powertrain envisioned for Friend-ME would deliver more than enough zip for city driving.
That's the dream Nissan Friend-ME delivers, thanks to the collaboration between design teams from Nissan Design China (NDC) — the Beijing studio established in 2011 — and Nissan Global Design Center (NGDC) under the leadership and direction of Shiro Nakamura, Nissan's senior vice-president and chief creative officer. One of NDC's most ambitious designs so far, Friend-ME is one of many in-depth explorations of China's customer needs and aspirations now underway.