Mercedes unveils the GLA SUV concept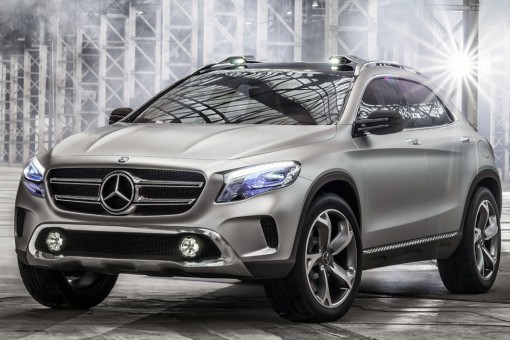 THE market for SUVs just seems to keep on growing. And not just in the basic family sector but also in the luxury and premium areas.
And Mercedes-Benz is not going to get left behind. Starting today they are showing a compact premium class SUV at the Shanghai Motor Show, which runs until April 29.
The Concept GLA combines dynamic styling with clear benefits for recreational use. Under the bonnet of this new concept vehicle (length/width/height: 4383/1978/1579 millimetres) sits a four-cylinder turbocharged petrol engine rated at 211 hp with a displacement of 1991 cc.
Its power is transmitted to the road via the 7G-DCT dual clutch automatic transmission and 4MATIC all-wheel drive. A new approach is taken here in the form of headlamps featuring laser technology: these not only shine more light on the road, but also function as projectors.
"The Concept GLA marks a new approach for us in the compact SUV segment — this is a sporty and more coupé-like evolution of this category of vehicle," commented Dr Joachim Schmidt, executive vice-president Mercedes-Benz cars, sales and marketing. "The Concept GLA is a compact SUV that combines its sporting spirit with the all-round qualities of a tough, leisure-time companion. 'Escape the everyday' is the message that this car conveys to its driver. It also makes clear the further potential of our compact vehicle architecture, which provides the basis for the A- and B-Class models that led the German market in their respective segments in the first quarter of 2013."
Amongst the distinctive features are the powerful bonnet with its powerdomes and a sporty radiator grille with a centrally positioned star. The new-style surround to the star merges elegantly into two horizontal bars.
Also new are the so-called "softcubes". These are soft, raised pads that help to give definition to the radiator grille and are also to be found on the side sill panels and alongside the exhaust tailpipes.
The 20-inch wheels, with their distinctive five-spoke turbine design, are shod in size 255/45 R 20 tyres. These have been specifically created for the Concept GLA: their tread pattern continues the lines of the spokes in an optical illusion that makes the latter appear longer.
The tailgate features a power closing system that allows it to be opened or closed at the touch of a button. Opening the tailgate with its integrated rear light cluster reveals supplementary lights to warn approaching vehicles of the open tailgate. Further light clusters are housed in the rear cross member between the roof rails.
In terms of its design, the interior reflects a clear alignment with the interiors of the other new compact Mercedes models, reinterpreted here for a sophisticated and exceptionally high-quality SUV. It is dominated by an exciting juxtaposition of leather and dark galvanised aluminium.
The four individual seats and the door centre panels are upholstered in natural leather in a rich shade of brown. Both colour and workmanship bring the image of a saddle to mind: all in all, the Concept GLA incorporates more than 20 metres of hand-stitched seams to hold the raw edges of the leather together. The seat cushions, which feature central inlay panels in a high-quality canvas material, display an embossed pattern that continues the saddle theme. An illuminated insert is set into the integrated head restraint of each of the four sports seats.
The instrument panel is constructed in several layers. On top of a leather-upholstered surface sits a framework in a combination of matt and polished aluminium, which provides the necessary support for all the instruments.
Fibre-optic ambient lighting in the load compartment visually extends the line drawn by the centre console all the way from the instrument panel through to the rear seats.
The Concept GLA is fitted with two cameras, housed in the front roof rail.
While the driving lights are produced here for the first time by a laser beam reflected off a mirror lens, the daytime running lamps, with their characteristic "torch" effect, as well as the indicator lights, consist of LEDs.