Suzuki's new Vitara available in 2015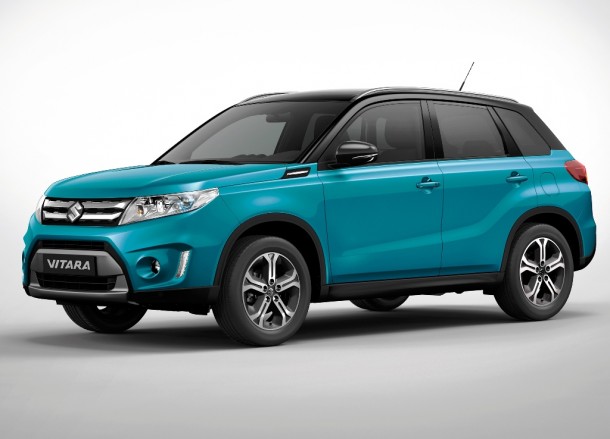 A NEW version of Suzuki's popular Vitari has been unveiled by the Japanese carmaker.
Since it first appeared in 1988, the Vitara series has earned acclaim for stylish, city oriented designs, compact, easy to manage dimensions, comfortable on-road performance, and genuine off-road capability.
Over the years it has evolved in body size and powertrain. Now, more than 25 years later, the Vitara heritage is embodied in a fresh sport utility vehicle incarnation.
The all-new Vitara has smaller dimensions to meet contemporary needs. It incorporates Suzuki's cutting-edge ALLGRIP four wheel drive system and advanced safety and connectivity equipment, it also enables owners to express themselves through various personalising options.
The new Vitara will go into production at the Magyar Suzuki plant in Hungary in early 2015, and will then make its market debut across Europe. It will later be exported around the world as Suzuki's global compact SUV.
It will meet contemporary demand for great fuel economy. Weight-saving measures including extensive use of high-tensile steel make the body outstandingly light and rigid. Powertrain technologies including a newly developed six-speed automatic transmission also help save fuel. The new Vitara with two-wheel drive and a five-speed manual transmission has CO2 emissions of just 123g/km.
SUV styling is at the fore in a strong looking design. A clamshell bonnet (a hallmark of the Vitara series) gives the front end a look of solidity, and a trapezoid motif front bumper indicates a powerful grip on the ground.
In the cabin, a boldly shaped instrument panel garnish and a U-shape design around the shift lever communicate SUV toughness. A round clock and air outlets, which are both motifs of the Grand Vitara, give the interior a youthful, sporty look.
Owners can emphasise the new Vitara's on or off-road credentials by choosing from two accessory packages.
The urban package adds sophistication by means of chrome parts. It consists of fog lamp bezels (chrome-plated), body-side mouldings, and a roof spoiler.
The rugged package emphasises SUV toughness. It consists of a front skidplate, a rear skidplate, fog lamp bezels, body-side mouldings, and a loading edge protection.
This latest model is powered by the M16 1.6-litre petrol engine or the D16AA 1.6-litre diesel engine. With the petrol option, friction reductions combine with weight savings in the engine and related components to realize superior fuel economy together with high output and torque. For the diesel engine, a new EGR system and an electronically controlled VGT help to achieve powerful, torquey performance together with low emissions and superior fuel economy.
A five-speed manual transmission is available for the 1.6-litre petrol engine, and a six-speed manual transmission is available for the 1.6-litre diesel engine. Each manual transmission's gear ratios are optimised to help realise a superior combination of performance and fuel economy. Measures such as a shift lever counterweight realise a smooth, positive shift action that makes for enjoyable driving.
A six-speed automatic transmission is available for the 1.6-litre petrol engine. A wide gear ratio range permits precise control over gear ratios, so it helps to realise superior response at low vehicle speeds (for instance, when pulling away from standstill or driving  slowly uphill) and enables the engine to run at low revs. An expanded lockup range promotes acceleration, fuel economy, and quietness. Plus, a manual mode enables the driver to change gear using paddles on the steering wheel.
The new Vitara's CO2 emissions are low thanks to the use of high tensile steel and other weight saving measures in the body. An Engine Auto Stop Start system is also used which shuts down the engine when the car stops (for instance, at traffic lights). Suzuki targets CO2 emissions of 123g/km with the petrol engine, two-wheel drive, and five-speed manual transmission and 127g/km with the petrol engine, two-wheel drive, and the six-speed automatic transmission.
Four-wheel drive is typically seen as detrimental to fuel economy and emissions performance. By contrast, Suzuki's ALLGRIP system enables CO2 emissions that are remarkably low for a four-wheel drive SUV. Suzuki's targets for the ALLGRIP equipped Vitara are 134g/km with the five-speed manual transmission and 138g/km with the six-speed automatic transmission.
Active safety equipment includes a Radar Brake Support (RBS) system. When driving at low speeds due to heavy traffic and such, this system detects the vehicle in front, and if it senses the possibility of a collision, it warns the driver with a buzzer sound and a notification on the multi information display.
If the probability of a collision has increased, the system activates brake assist which increases the braking force during emergency braking. If the system determines that a collision is unavoidable, it applies the brakes automatically. The system thus helps prevent collisions when the vehicle is driving at low speeds and helps reduce damage in the event of a collision.
Suzuki achieved a world first by equipping the SX4 S-Cross with a sunroof consisting of two individually sliding glass panels. Now, the new Vitara incorporates the same acclaimed feature. The sunroof extends over the front and rear seats, making the cabin more relaxing for all occupants.
The audio system has a seven inch touch panel display that enables intuitive operation and can also be used by people wearing gloves. A three dimensional navigation map makes landmarks easy to distinguish. The system also allows the customers use smartphone applications while on the move.