New Kia cee'd wins Northern Car of the Year award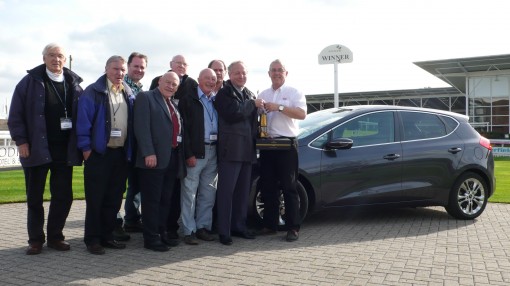 The Northern Group of Motoring Writers have bestowed the all-new Kia cee'd with its first major award since its launch in May, naming it Northern Car of the Year.
Praised by journalists from across the North of England for its refinement, sophistication, quality and excellent value, the five-door cee'd won the honour in the face of stiff competition from several rival brands.
Vice chairman of the Northern Group of Motoring Writers, Derrick Grocock, presented the traditional miner's lamp trophy to Kia Motors (UK) Ltd Communications Director, Stephen Kitson during an event in Wetherby, Yorkshire. Mr Grocock said: "Over the last 12 months there have been some fantastic new products brought to car buyers by the world's most vibrant and innovative industry – but despite that competition the Kia cee'd was a clear winner in the voting.
"For hard-pressed motorists in the North, investment in a new car has to really work hard to be justified and the Kia cee'd delivers on every front – comfort, reliability, quality, value and of course peace of mind from its seven year warranty".
Accepting the award, Mr Kitson, said: "This is a great honour for all of us at Kia. It is the first COTY award won by all-new cee'd but it is also the second Northern Car of the Year title in a row for us – and that really delights us! Last year Sportage captured this title and to do it for a second time in a row shows just how committed Kia is to bringing great products to UK customers.
"We are very grateful to the Northern Group of Motoring Writers as we know how hard it is to win their approval because they think first and foremost about their readers and their needs. Winning this award is a real achievement for any new car," he said.
The Kia cee'd range comes with a choice of two petrol and two diesel engines, manual, automatic and Dual Clutch transmissions and pricing starts at £14,395. Kia have just added the Sportswagon variant to the range for owners who want greater flexibility and an all-new pro_cee'd three-door version is due to arrive in the spring of 2013.
Don't miss our review of the new cee'd Sportswagon.