New generation cee'd about to hit showrooms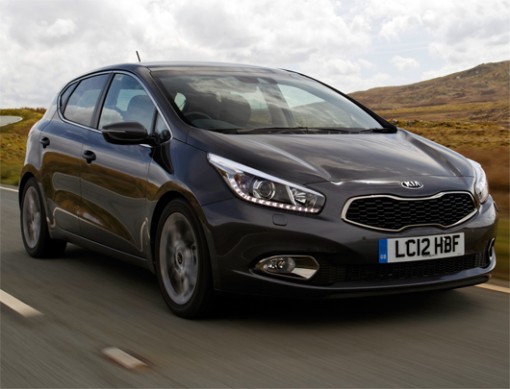 THE medium-sized car sector is one of the most competitive and crowded parts of the car market. And it's going to get a bit tougher.
Having received acclaim and a good response to its first cee'd, Kia's second generation model goes on sale here on June 1. Kia claim the new version offers enhanced levels of quality, refinement and efficiency in the family car market.
The new cee'd has been designed, engineered and built in Europe, and is the replacement for the car that pioneered the seven-year warranty, and changed perceptions of Kia, combines impressive levels of comfort, safety and luxury whilst maintaining competitive pricing with on the road prices starting from £14,395.
If the first cee'd was a game-changer for Kia, the new one takes the company into an altogether different league.  It is nothing less than a showcase for everything that Kia knows about design, quality, engineering and technology. New cee'd is available with a state-of-the-art direct-injection petrol engine for the first time and is the first Kia in the world to offer a dual-clutch automated manual transmission.
It is still one of only a handful of compact hatchbacks to have independent rear suspension, with inherent advantages for ride and handling — both of which have been honed even further for the new car.  Quality and refinement have been significantly raised to be at the top of the class and it offers technology that, until recently, was available only on upmarket models from premium brands.
The original cee'd made its debut at the Paris Motor Show in 2006 — at the same time as Kia introduced Peter Schreyer as its new chief design officer. Their simultaneous arrival meant that Schreyer was able to influence only the smallest details of the car's design, but the new model has been created entirely under his watchful gaze by a team led by European design chief Gregory Guillaume.
While only a little longer than the previous model (up 50mm to 4,310mm), the new cee'd has different proportions which give it a sportier stance and a more upmarket appearance.  It is narrower and lower (down 10mm each to 1,780mm and 1,470mm respectively) and sits closer to the ground, while the cabin has been shifted forwards to allow a more rakish roofline without impinging on the original car's outstanding passenger or luggage space.  Front passengers benefit from increased head and legroom and there is more shoulder room all round.  The wheelbase, one of the longest in class, at 2,650mm, is unchanged, but the overhangs are greater to provide greater crash protection (front) and boot capacity — up by 40 litres to a class-best 380 litres.
The improvements in quality are actual as well as perceived. First impressions are matched when stepping into the cabin.  Soft-touch surfaces, high-quality materials, damped sun visors and lidded storage areas, subtle red ambient lighting, tactile door grab handles and precise panel gaps combine to give the interior of the new cee'd a solid, mature, made-from-a-mould feel.
The second-generation cee'd raises the benchmark for fuel-efficiency in its class, with average fuel consumption reductions of four per cent and CO2 emissions as low as 97g/km for the 1.6-litre diesel model — a remarkably low figure for a non-hybrid car.  Four engines are available at launch — 1.4- and 1.6-litre diesels from Kia's U2 family and petrol engines of similar capacity from the Gamma range.
The 1.6-litre petrol engine features efficiency-enhancing direct fuel injection.  Familiar from the Kia Sportage, it is the most powerful of the four cee'd engines, with 133bhp and 164Nm of torque, and is the only cee'd available with the new dual-clutch gearbox developed in-house. This advanced new gearbox allows fully automatic operation, or manual changes, via steering wheel-mounted paddles, but without the fuel consumption penalties that accompany conventional automatics.
All 1.6-litre manual versions of the cee'd are equipped with ISG (Intelligent Stop & Go), Kia's engine stop/start system which is a major contributor to the efficiency improvements of the new range. The 1.6-litre diesel with ISG has a combined cycle potential fuel economy of more than 76mpg, with CO2 emissions from 97g/km, depending on the wheel and tyre combination.  It is available with a conventional six-speed automatic gearbox in place of the standard six-speed manual. The CO2  emissions of the 1.6 CRDi automatic are 145g/km.
The 1.4-litre units deliver a strong balance of flexible performance and low fuel consumption, even without the aid of ISG. The petrol version develops 98bhp and 137Nm of torque and is capable of more than 47mpg, with CO2 emissions from 139g/km. The diesel, with 89bhp and 220Nm, manages almost 69mpg, with CO2 emissions down to 109g/km. The extensive standard and passive safety equipment of the previous cee'd — including Electronic Stability Control (ESC), Vehicle Stability Management (VSM), Hill-start Assist Control (HAC) and six airbags — has been supplemented with new features. All versions have Emergency Stop Signalling (ESS) which causes the rear brake lamps to flash in an emergency stop to alert following drivers.
Depending on model, static and active cornering lights, a colour reversing camera, a Parallel Parking Assist System which automatically steers the car into kerbside spaces and a Lane Departure Warning System is available.
Routine servicing is needed only once a year or every 20,000 miles for both petrol and diesel versions. Care-3 — Kia's servicing package for retail customers — is available for cee'd and offers a fixed cost and inflation-proof servicing for the first three or five years, costing £299 including VAT, which covers the first three services, or the Care-3 Plus package is £549 including VAT and covers the first five services.