User choosers await new Mondeo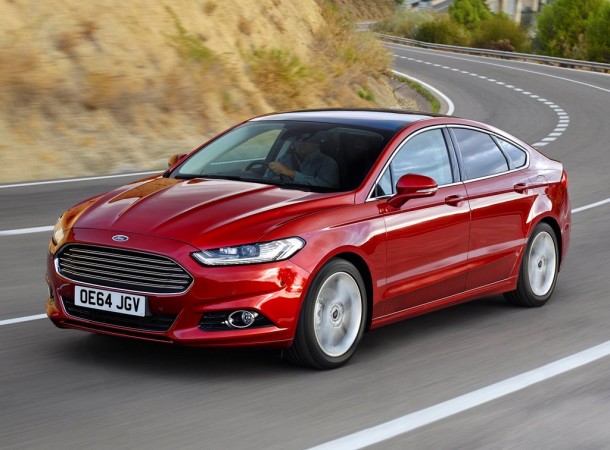 ARE you a "user chooser"? And are you waiting in anticipation for the all-new Ford Mondeo?
If so, you must be one of the more than 50 per cent of UK executives in one of the "user chooser" market segments who are eager for the car's arrival.
Sewells Intelligence questioned over 2,200 "user chooser" company car drivers, the largest survey of its kind. Over half of those in the lower/upper medium vehicle sector* said that they would definitely or be likely to consider the Ford
Mondeo as their next company car.
Available from next month in diesel and petrol five-door and estate bodystyles, plus a four-door hybrid, the all-new Ford Mondeo offers head-turning exterior styling, greater interior refinement and technologies including adaptive LED
headlamps, Inflatable Rear Seatbelts and SYNC 2 connectivity.
In addition, Sewells also surveyed over 2,000 fleet managers and business decision-makers across the UK, again the largest survey of its kind, who placed Ford in the top two most desirable brands for businesses overall.
Simon Staplehurst, of Sewells Research and Insight, said: "It's easy to be blinded by the kudos of a premium badge, yet surveys like our User Chooser Barometer highlight that company car drivers also strongly consider Ford. Given that
this Mondeo will also offer a hybrid petrol-electric option, it's only likely to further increase interest from drivers."
All-new Ford Mondeo introduces adaptive LED headlamp technology, which combines full LED headlamps, offering daylight clarity, with Adaptive Front Lighting to adjust the beam angle and intensity to match the environment.
In the event of an accident, the Mondeo's Inflatable Rear Seatbelts expand to disperse crash forces across a body area five times greater than that achieved by a conventional belt – offering valuable extra protection to very young or old
passengers with weaker chest areas.
Ford's SYNC 2 connectivity system boasts an eight-inch colour touchscreen to operate phone, entertainment, climate and navigation systems using voice commands.
The all-new Ford Mondeo, also capable of automatically parking itself in both parallel and perpendicular spaces, as well as avoiding pedestrians which stray into the car's path, is now on sale from £20,795.