New bridge improves spectator access at Cadwell Park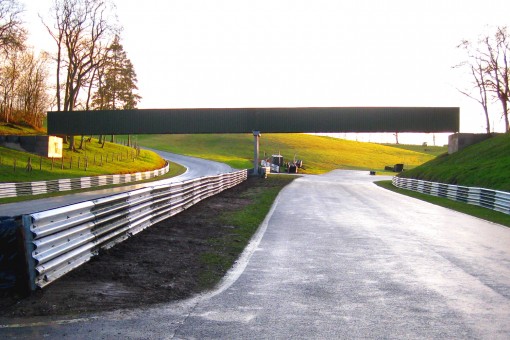 CADWELL Park circuit owner MSV has installed a footbridge at the Lincolnshire circuit to improve access for spectators at its race events. The work was completed in time for the new season, which starts in March.
The location of the bridge links the paddock with the pit straight, crossing two sections of the circuit from the run to Coppice and the return leg between Mansfield and the legendary Mountain section. Fans will now be able to switch viewing spots between the start line and Mountain with ease, especially during the August Bank Holiday round of the MCE Insurance British Superbike Championship, with a campsite located on the outside of the circuit opposite the pitlane.
The 40-metre steel bridge is formed of two sections and the Cadwell Park maintenance team battled the winter elements to complete the work on time. This included replacing the entire double-backed run of Armco on the central reservation, working around the new centre foundation. Great care was also taken to place the bridge in such a way to avoid obscuring spectator views.
Jon Rush, Circuit Manager for Cadwell Park said: "The new spectator bridge at Cadwell Park is a massive forward step in making racing here even more accessible and enjoyable to watch. It's been over 25 years since Cadwell Park's first bridge (at Hall Bends) was removed, so it's great that we've finally been able to construct another bridge to open up the venue. Both our in-house maintenance team and Beaver Bridges worked extremely hard in challenging snow and icy weather to bring this together."
Tickets for many 2013 events at Cadwell Park, including the MCE Insurance British Superbike Championship, are now on sale, with free entry for children aged 12 and under. For more information on these, call 0843 453 9000 or visit www.cadwellpark.co.uk