New C4 Picasso paints pretty picture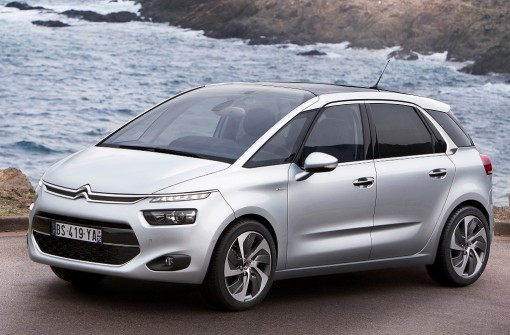 CITROEN has had a brush with the future as it unveils the first pictures of its popular MPV the C4 Picasso.
The latest incarnation of its popular model will be launched this summer and will feature a bold, expressive design, loft-style, bright and spacious cabin and a raft of creative technologies including a full touch driving interface, 12-inch HD panoramic screen, 360 Vision, Park Assist, active cruise control, active seatbelts and ultrasonic blind spot monitoring system.
It will be based on the EMP2 (Efficient Modular Platform 2). Taking advantage of the new EMP2 platform, means there is a reduced overhang (-70mm at the front); a lower engine block (-40mm to -50mm) and floor (-20mm) and wider tracks (+82mm at front and +31mm at the rear). The side signature, a C shape in chrome, adds personality to the side profile.
The assertive front end features new look chevrons which extend out to spectacular hi-tech lights. Slim LED daytime-running lights, positioned just above the headlamps, flank the radiator grille. Fog lamps complete the very original light signature.
The rear LED lights, inspired by Citroën's concept cars, create a futuristic 3D effect, whilst the enveloping tailgate conveys roominess, strength and dynamism.
The vehicle will be offered in a range of eight colours from Shark Grey, Aluminium, Hickory Brown and Obsidien Black to radiant Ruby Red, Teles Blue and Kyanos Blue. A range of Alloy wheel designs are also available in three sizes — 16, 17 and 18 inches.
Inside, New C4 Picasso features an uncluttered ambience that includes a panoramic windscreen and large glass roof which bathe the cabin in light. (Combined glazed area of 5.3m2)
With the exclusive Lounge Pack, travelling becomes a first class experience with front massage seats, a 'Relax' seat that lets the front passenger stretch out their legs and a Relax headrest on all seats for comforting neck support.
New C4 Picasso's full digital driving interface is both intuitive and attractive with the uncluttered dashboard structured around two screens – a seven-inch touchpad and 12-inch panoramic HD screen.
Available from 2014, drivers will also have access to Citroën Multicity Connect, a portal of connected applications controlled from the 7" touchpad. The system provides information such as the nearest fuel station, hotel or restaurant, weather updates or traffic reports.
New C4 Picasso is the first compact MPV with an internal combustion engine to deliver sub-100g/km CO2 emissions. The e-HDi 90 Airdream engine, mated to the new 6-speed clutchless gearbox, emits just 98g/km with fuel economy of 74mpg — a record in the class.
Stop & Start technology is fitted on all diesel units with the exception of the HDi 90 manual and the popular e-HDi 115 engine emits just 104g/km CO2 with the six-speed clutchless gearbox, 105g/km with the manual and delivers 70mpg.
The latest variant will be the first Citroen model available with a BlueHDi engine meeting Euro 6 standards. The BlueHDi 150 emits just 110g/km of CO2 and features an SCR module (selective catalytic reduction), currently the most efficient technology for treating NOx (- 90%) and cutting CO2 emissions in all situations. 
Alongside the 6-speed manual gearbox, a new 6-speed clutchless gearbox is available. The ETG6 (6-speed Efficient Tronic Gearbox) delivers improved performance and can be integrated into the e-HDi 90 and e-HDi 115 engines.