MINI announces new Paceman model line-up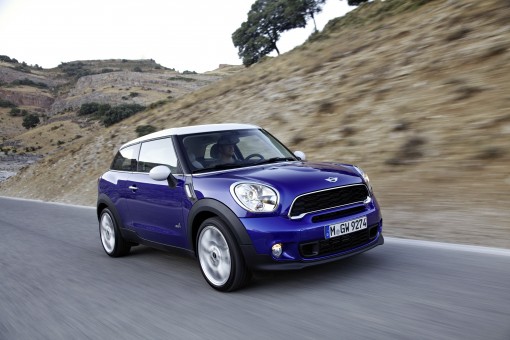 THIS is the next new Mini to join the ever-increasing line-up.
It's called the MINI Paceman and will be launched in the UK in March next year.
Mini says it's a coupe interpretation of the Countryman and there will be four versions on offer, including a Cooper S model which will have a 0-62mph of just 7.5 seconds.
The Paceman, strict four seater, will be the seventh model in the family, joining the Hatch, Clubman, Convertible, Countryman, Coupé and Roadster.
The outsized five-door Countryman has never been a favourite of mine and when there is already a coupe model in the range, I do wonder what the point of another jacked-up not-so Mini is.
Mini says its coupé-style stretched side profile features long doors, while the blacked-out pillars create a 'floating' roof concept, as already seen on the MINI Coupé. Available in either black, white or body colour, the roof gently slopes towards the rear of the car, ending at the integrated spoiler.
The Paceman is the only member of the brand's line-up to be identified by a rear nameplate.
From launch, Paceman customers will have the choice of four engines, two petrol and two diesel. All come with a six-speed manual gearbox, or the optional six-speed automatic with Steptronic function for manual control.
For petrol buyers, the MINI Cooper Paceman features a 1.6-litre 122bhp unit offering a 0-62mph time of 10.4 seconds, fuel economy of 47.1mpg with CO2 emissions of 140 g/km. The MINI Cooper S Paceman uses the same engine, tuned to deliver 184bhp. It will sprint to 62mph in 7.5 seconds. Fuel economy is 46.3mpg and emissions are 143g/km.
For those who prefer diesel, the MINI Cooper D Paceman uses a 1.6-litre 112bhp turbocharged engine with a 0-62mph time of 10.8 seconds. It will provide owners with a frugal 64.2mpg fuel economy and 115g/km emissions. The flagship diesel is the MINI Cooper SD Paceman, which gets a 2.0-litre 143bhp engine. Its 0-62mph time is 9.2 seconds. Fuel economy is 61.4mpg with an emissions figure of 122g/km.
For buyers who want the reassuring grip that comes with four-wheel drive, MINI's ALL4 system is available on the Cooper D, SD and Cooper S Paceman, models.
A John Cooper Works Paceman model is in the pipeline.