Mercedes expect ML 63 AMG to fly out of showrooms!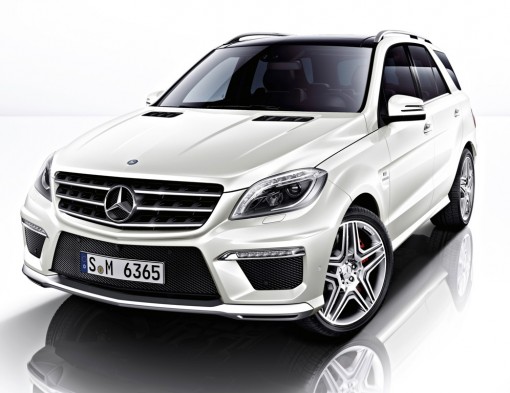 WHILE probably not the most pressing issue for would-be buyers of Mercedes' M-Class flagship, it's nice to know that those clever engineers have made the ML 63 AMG almost 40 per cent more economical and even cleaner, with CO2 emissions down by 30 per cent.
The German marque has announced that the model will be available on the road for £82,995 and will be home to a comprehensive list of equipment as standard.
Mercedes feel that, thanks to the performance expertise of AMG, the new model will race out of the showrooms as quickly as it will be able to dash around the roads.
The M-Class' top model is powered by a 5.5-litre bi-turbo direct-injection V8 engine delivering 525 hp and 700 Nm of torque — or 557 hp and 760 Nm with the optional AMG Performance Package (£6,165). Even in standard specification this is sufficient to accelerate it from 0-62 mph in 4.8 seconds, a time which puts it on a par with many high-performance sports cars.
Thanks to the ingenuity of the engineers at AMG the ML 63 AMG is almost 40 per cent more economical and emits nearly 30 per cent less CO2 than the previous model. The responsive and intelligent AMG Speedshift Plus 7-G Tronic  seven-speed automatic transmission, featuring a Controlled Efficiency driving mode and ECO start/stop function, contributes towards combined economy of 23.9 mpg, with CO2 emissions pared down to 276 g/km. 
Modifications to ensure that the chassis of the ML 63 AMG is more than a match for the prodigious performance include AMG sports suspension and high-performance brakes with internally ventilated and perforated discs, Direct Steer and 20-inch five-spoke alloy wheels. The Mercedes-Benz Active Curve System with AirMATIC self-levelling air suspension is also standard, endowing the ML 63 AMG with outstanding body composure and handling when cornering, with no dilution of ride comfort.
The exterior and interior styling have also come in for attention so that the ML 63 AMG has its own discreetly sporty identification. AMG bodywork includes exclusive front and rear aprons and side skirts, AMG-specific LED daytime running lamps as part of the standard Intelligent Light System, an AMG sports exhaust system with two twin tailpipes to give the ML 63 AMG its charismatic exhaust note and 'V8 BITURBO' lettering on the front wings.       
Inside, there are leather-upholstered AMG Sports seats (heated at the front), an AMG four-spoke steering wheel trimmed in Nappa leather and with a flat lower section, AMG instruments and floor mats and sports pedals and footrest in brushed stainless steel with rubber studs. Specific standard equipment for the ML 63 AMG in addition to that available on other versions of the new ML includes the Mercedes-Benz COMAND Online system with Media Interface, a DAB digital radio, a dashboard trimmed in Artico artificial leather and an electric glass sunroof.
The optional AMG Performance Package is being offered on the ML for the first time and, in addition to the power and torque upgrade, includes the AMG Performance steering wheel with Dinamica inserts in the grip areas (available independently for £420), an AMG carbon fibre engine cover and red-painted brake calipers. The ML 63 AMG is also offered with a Driver's Package (£2,820), which raises the limited top speed from 155 mph to 174 mph and includes attendance at a 'Power and Passion' driver event.