Megane range has a coupe cabriolet added for 2014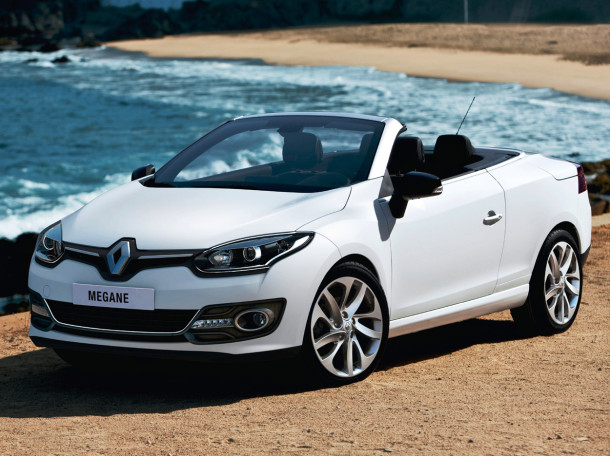 THE latest model which Renault has chosen to revamp is the Megane. The French carmaker has brought out a new Megane Coupe Cabriolet.
In common with its other updated siblings, the new model has Renault's new styling identity and the firm's R-Link connected multimedia system as standard.
The car will be officially unveiled at the Brussels Motor Show in January 2014. Final specifications and UK pricing will be announced just before sales begin in March.
After the Megane Hatch, Coupe and Sport Tourer, it is now the turn of the Megane Coupe Cabriolet to feature Renault's new family traits. Its dynamic, elegant stance has been further enhanced by a new bumper which incorporates the new distinctive Renault diamond set to a gloss black background.
Meanwhile, the connected Renault R-Link multimedia system is now standard on the full UK line-up of Megane Coupe Cabriolet. This fully-connected system comes with a smart, chrome-trimmed seven-inch (18cm) display which functions in association with a centre console-mounted joystick. A line-up of connected applications, such as e-mail or weather forecasts, is also available through the R-Link store.
New Megane Coupe-Cabriolet continues to be equipped with the coupe segment's largest panoramic glass roof. With the top down, the vehicle ensures an inimitable open-air experience without the drawbacks. Its standard fixed glass wind deflector, which is unique in the segment, minimises turbulence to provide maximum comfort for four passengers when travelling at speeds of up to 55 mph.
New Megane Coupe-Cabriolet can also be ordered with an optional removable mesh deflector screen that allows two occupants traveling alone to benefit from extra protection against buffeting at all speeds.
New Megane Coupe Cabriolet is made at Renault's Douai plant in France, alongside Scenic, Grand Scenic and Scenic XMOD.