Last chance to buy RHD Saab 9-3 convertible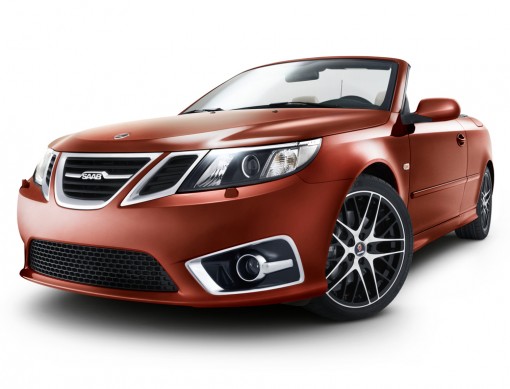 THE last remaining 26 right hand driver MY12 Saab 9-3 convertibles are to be offered for sale in the UK thanks to Saab Parts UK, which has managed to obtain the stock.
The cars can be purchased through any of the UK's 87 authorised Saab repairers and are already in the country, so there are no worries about delivery.
All of the convertibles have been hand-finished by Saab employees based at Saab dealership, ANA, in Trollhättan, these cars will carry a sentimental value for Saab fans around the UK and are the last and best equipped examples of Saab's convertible lineage after 25 distinguished years.
The Saab 9-3 Convertible range was significantly revitalised with the MY12 line-up, featuring refreshed exterior and interior styling and fitted with a range of more powerful, fuel and emissions efficient engines than its predecessors. Three levels of specification are available; SE, Aero and Independence Edition.
The all-turbo powertrain line-up comes with a 160hp and 180hp, 1.9-litre twin turbo diesel engine and two new 2.0-litre petrol engines providing power outputs of 163hp and 220hp respectively. The exclusive Saab 9-3 Convertible Independence Edition is powered by a 180hp, 1.9-litre twin turbo diesel and comes with a six-speed automatic transmission as standard. Ultimately the plan was to build just 80 examples for the UK market, but in total only seven right-hand drive models were imported in 2011, resulting in the further seven available from today being assured real UK exclusivity.
Featuring a unique Amber Orange metallic paint finish, it is based on the top-of-the line Aero specification and includes a limited edition serial number etched into the rear side windows. It is further distinguished by five spoke, 18-inch alloy wheels with a satin chrome/black finish, parchment sport leather seats and lockable glovebox with amber orange highlights, a carbon-fibre look leather finish for the instrument panel, handbrake, gearstick moulding and door handles, and orange stitched sport leather steering wheel and carpet mats with grey piping.
All the MY12 Convertibles offered for sale come with a high level of standard equipment including alloy wheels, leather trimmed interior, heated front seats, park assist and Bluetooth phone integration along with a host of safety systems including electronic stability programme, six airbags and Saab Active Head Restraints.
On the road prices for these last remaining Convertibles start from £22,750 and come in a range of popular colours. With Spring still due to arrive any day, now is the perfect time to acquire a new 12 plate "last of the line" 9-3 Saab Convertible.
Interested prospects are encouraged to contact their local Saab Authorised Repairer in order to secure more details and to register their interest early. A full list of Saab's national network of Authorised Repairers can be found on Saab's website,www.saab.co.uk within the dealer locator section.