Racing legend Jim Clark will be celebrated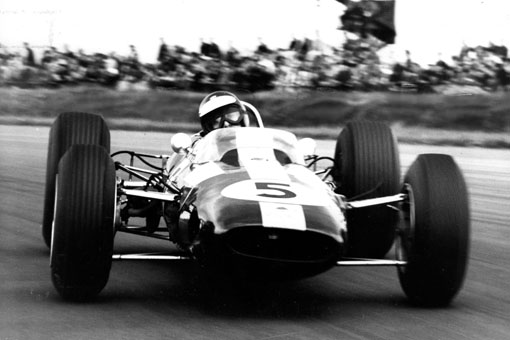 HE is a legend who will long be remembered by fans of motor racing the world over.
Jim Clark was a double world champion and achieved many great feats during his career, including winning the Indianapolis 500.
He was tragically killed in a motor race at Hockenheim, Germany, in 1968.
His remarkable achievements will be honoured during a special evening event being organised during this summer's Silverstone Classic (26-28 July).
Staged in the new Silverstone Wing building, the inaugural BRDC Silverstone Classic Dinner will take place on Friday, July 26, almost exactly 50 years after Clark won the British Grand Prix at Silverstone on July 20, 1963 en route to his first World Championship crown.
Open to members of the British Racing Drivers' Club and Silverstone Classic competitors, the commemorative dinner will include special tributes to the Scotsman – a racing legend who is still widely hailed to be Britain's greatest ever Grand Prix driver.
Born in Fife, Clark won the Formula One World Championship title in 1963 and 1965, and was the first British driver to win the Indianapolis 500, again in 1965. At the time of his death, when racing a Formula Two car at Hockenheim in Germany in 1968, he had won more Grands Prix (25 from just 72 starts) and pole positions (33) than any other driver.
Many of those who knew Clark from the Sixties will be sharing their memories during this dedicated evening and several of Jimmy's trophies, cars and other memorabilia will be on display.
"Jim Clark was one of the greatest racing drivers of all times as well as a notable member of the BRDC and a true Silverstone hero – that's why we are so pleased and privileged to be honouring his incredible career with this special BRDC Silverstone Classic Dinner in July," said Derek Warwick, President of the British Racing Drivers' Club.
"The Classic is now firmly established as a major event on the international historic motor racing calendar and it presents us with the perfect opportunity to pay tribute to past champions. We hope this BRDC Silverstone Classic Dinner will become a regular highlight in the years to come."
Famous F1 cars once raced by Clark feature in two hugely evocative races organised by the Historic Grand Prix Cars Association (HGPCA) for Pre-1966 Rear Engined Grand Prix Cars; they are among an amazing collection of more than 100 of the world's finest F1 cars still competing at the Classic. In honour of Clark, these two HGPCA races will be renamed the Jim Clark Trophy for Pre-1966 Rear Engined Grand Prix Cars.
Tickets for the exclusive BRDC Silverstone Classic Dinner in the Silverstone Wing are priced at £99 (including VAT) and available from the official website: http://www.silverstoneclassic.com/