Honda gives glimpse of next possible supercar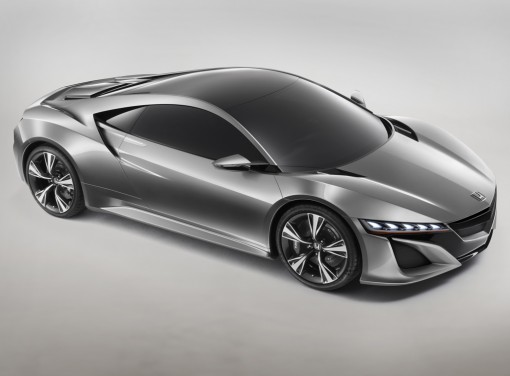 EARTH Dreams Technology may sound like something from a science fiction film, but it's Honda's vision for the future at least.
The first fruits of its labour is going on display at the Geneva Motor Show in the form of a 1.6-litre diesel. It is the first in a new generation of diesel engines which the Japanese company will be introducing over the coming three years.
And it will also be displaying the droolingly beautiful NSX Concept, EV-STER and an upcoming CR-V model.
Earth Dreams Technology is a new generation of engines promising excellent performance and environmental values. Due to be introduced throughout the range, the technology aims to make Honda become number one in fuel economy within three years.
The new 1.6 litre diesel will be the first engine from this series and it will be introduced to the new Civic in late 2012. It will be the lightest engine in its class, delivering sub 100g/km CO2 levels and a class-leading balance of fuel economy and performance. A cut engine display of the new 1.6 litre diesel will be shown on the Honda stand.
The stunning NSX Concept will make its European debut at the show badged. Highlighting the design and technology direction for Honda's next generation supercar, the NSX Concept features a V6 mid-mounted engine and will employ a range of new technologies including the innovative Sport Hybrid SH-AWD (Super Handling All Wheel Drive™) hybrid system. It is expected to go on sale within the next three years.
Honda will also present the European CR-V Prototype, a preview model highlighting the exterior styling direction of the all-new fourth generation European Honda CR-V, which is set to go on sale in the Autumn. Compared to the previous generation, the model adopts a more aggressive stance with deeper sculpting of the body lines and a bolder front fascia. The lower front bumper wraps smartly upward to convey SUV capability, while the lower front bumper design now integrates more smoothly into the fascia for improved aerodynamics.
Two new Jazz derivatives will also be displayed for the first time. The Jazz Si, on sale from Summer 2012, features an upgraded sporty suspension package and styling changes to the interior and the exterior.
The second, the Jazz 1.2 with Idle Stop, delivers a reduction in CO2 emissions of 3g/km compared to the standard 1.2 variant and will available to order in Spring.
Further underlining Honda's aim of developing sporty, exciting products, the Honda EV-STER will also make its European debut at the show. The EV-STER, an electric rear wheel drive two-seater open sports car, features dynamic and innovative styling and excellent environmental performance.