BTCC racers heading for Thruxton thriller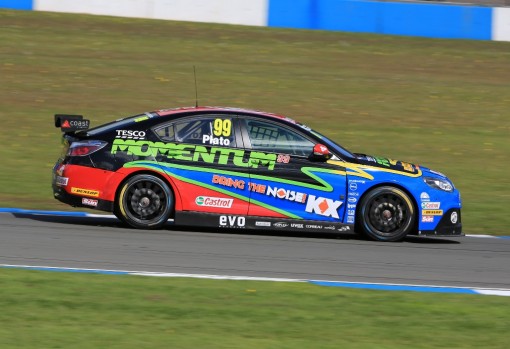 ALL the excitement, thrills and action of touring car racing is heading to Thruxton this weekend.
It's rounds seven, eight and nine of the Dunlop MSA British Touring Car Championship (BTCC) and the MG KX Momentum Racing team is looking forward to the challenge.
Sitting proudly at the top of the leaderboard, it has been a frenetic start to the season for Momentum and all the teams with three race weekends taking place this month.
Momentum is looking to keep up the momentum and score some good points before the next round at Oulton Park, which comes after a six week break.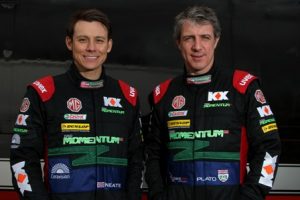 The Thruxton circuit in Hampshire is the fastest circuit on the 2012 BTCC calendar, with the average speed of the qualifying lap record being in excess of 111mph. The high speed nature of Thruxton means that championship tyre supplier Dunlop has to produce a special edition tyre, that is capable of enduring the high loads the tyres are put under during the weekend's competition.
Thruxton has been a happy hunting ground  for the Greatworth based Triple Eight Race Engineering squad with the team having won nine of the last fifteen BTCC races held there. The MG KX Momentum Racing team will be hoping the new MG6 can enjoy similar pace around Thruxton to the team's Vauxhall predecessor.
The flat out curves of Thruxton ensure that the Hampshire venue is a favourite amongst the BTCC drivers and both MG KX Momentum Racing drivers are relishing the opportunity to get back behind the wheel of their MG6 race cars this weekend.
Jason Plato (car number 99) is top of the standings with 84 points.
He said: "I just love Thruxton, of all the UK circuits we visit on the calendar, this is the one that gets your heart racing the most. It is a huge challenge for the drivers and engineers and interestingly the last time I had a perfect  set-up for this circuit was in 2001, in a Triple Eight engineered car. Ian and his team always produce an amazing chassis for Thruxton.  It's time to win some races!"
Andy Neate (car number 49) stands in 18th place with 12 points.
"Donington was a tough weekend for me and so I'm delighted to get back behind the wheel so soon afterwards and put that weekend behind me. Thruxton is a great circuit to be heading to next as well, which will hopefully suit the MG6. Overall I'm looking for a strong and consistent weekend," he commented.
Team principal Ian Harrison is content with fifth spot in the team placings on 93 points. They also have second spot in the manufacturers table on 157 points.
Ian commented: "Thruxton has been a good track for us in the past, but with our new car it doesn't stand for much to be honest.  Thruxton's fast turns command respect from both drivers and the team, so we will be ensuring that we get the best speed out of the car, while keeping an eye on the dreaded tyre wear. It also looks like the weather will be a factor this weekend, so all in all, it's a bit of a lottery!"