When is an SUV not an SUV? When it's an SAV!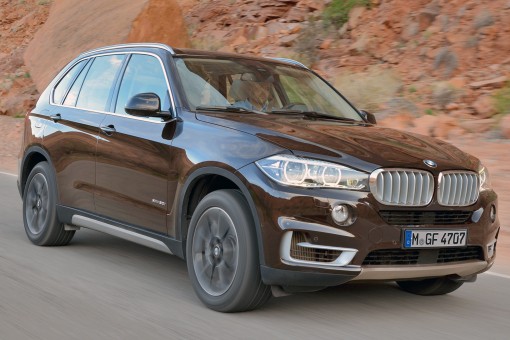 ONCE upon a time there was the humble SUV. A vehicle for leisure pursuits and maybe a little light work.
Now the SUV market has come of age with almost every manufacturer making at least one. But BMW is moving the concept along even further and taking it upmarket.
So as not to be mistaken as just another SUV, it calls its variants Sports Activity Vehicles (SAV), and it's new third-generation X5 model should further enhance its role as global market leader in the segment. BMW has sold more than 1.3 million examples of the first two X5 models.
The new X5  goes on sale in the UK from November 16, delivers major advances in design, luxury, comfort, versatility, efficiency, driving pleasure, safety and connectivity. It will be available with five TwinPower Turbo engines — four diesel and one petrol — a standard eight-speed automatic transmission and the option of two or four-wheel drive (sDrive and xDrive). In the UK it will be offered in SE or M Sport specifications.
BMW coined the phrase 'Sports Activity Vehicle' because it perfectly summarises the character of the X5 — a car with the all-roads, all-weather capabilities and the space and versatility of an SUV, with the driving enjoyment of a BMW.
Those qualities are further advanced with the TwinPower Turbo engines, standard eight-speed automatic transmission and suspension personalisation options of the new model.  At the same time these are accompanied by significant reductions in fuel consumption and CO2 emissions as a result of a raft of EfficientDynamics technologies. All engines already meet the EU6 emissions standard not due to be introduced until September 2014. In the diesels this is due to a combination of a nitrogen oxide (NOx) absorber catalyst, Selective Catalytic Reduction and a urea (AdBlue) injection which turns the vast majority of NOx in the exhaust stream into harmless nitrogen and water.
The range will initially be made up of the xDrive30d, M50d and xDrive50i.
The 3.0-litre six-cylinder xDrive30d is 19 per cent more fuel efficient, with economy improved by 7.4mpg and CO2 reduced by 33g/km — despite power and torque increases of 13hp and 20Nm. The M50d, powered by a three-stage single turbo version of the 3.0-litre six-cylinder engine, is 12 per cent more efficient.  Consumption is reduced by 4.5mpg and CO2 emissions down by 22g/km, while maintaining its high power and torque outputs. The xDrive50i has a new-generation 4.4-litre V8 engine now incorporating VALVETRONIC variable valve timing as well as twin turbochargers. Power is improved by 10 per cent (41hp) and there has been a 50Nm increase in torque, but consumption falls by 20 per cent (4.6mpg) and CO2 emissions have been cut by 50g/km compared with the previous engine.
These three engines will be joined at the end of the year by a four-cylinder diesel — taking advantage of the new X5's considerably reduced weight and another six-cylinder diesel. The 2.0-litre four-cylinder turbodiesel engine is new to the X5 and appears in the sole two-wheel drive model, the sDrive25d, and the xDrive25d, which provisionally achieve fuel economy of 50.4mpg and 47.9mpg respectively. The respective provisional CO2 figures are 149g/km and 155g/km.
The xDrive40d, with a twin-turbo 3.0-litre in-line six-cylinder diesel engine, is expected to have average fuel consumption of 44.1mpg with CO2 emissions of 169g/km.
All versions come with an eight-speed automatic transmission which not only adds to driving enjoyment but also makes its own contribution to fuel-saving. The ECO PRO mode adapts the engine management, accelerator response and transmission characteristics to support a particularly fuel-efficient driving style, and even programmes the climate control and heated seats and mirrors for the most efficient use of energy. In conjunction with the standard BMW Professional Multimedia navigation system, it can even advise the driver to ease off the accelerator when approaching corners or lower speed limit areas through the Proactive Driving Assistant function. This also helps to lower fuel consumption.
The new BMW X5 is equipped with a raft of EfficientDynamics features which complement the new engine line-up and standard eight-speed automatic transmission to keep fuel consumption and emissions to a minimum. They are joined in the new model by extensive weight and drag-reduction measures, making the new X5 the lightest and most aerodynamic car in its class.
The latest version of the BMW xDrive system, which intelligently manages the torque split between the front and rear wheels, has been enhanced for efficiency. It takes information about road and wheel speeds, steering angle and accelerator position to interpret the driver's intentions and what the car is doing to calculate how to apportion engine torque. All-wheel-drive models now include a 3D xDrive display giving real-time details of body roll and pitch in the central information screen, as well as a digital compass display.
The new X5 will offer two design packages as alternatives to the standard specification of SE and M Sport to allow maximum personalisation. They are called Design Pure Experience and Design Pure Excellence, and include a harmonious blend of design, colours and materials. The exterior and interior parts of these design packages can be ordered as a total package or independently and can be combined with standard specification or with each other.
The BMW Parking Assistant (planned from late 2013) will identify suitable parking spaces and not only steer the X5 into them but also operate the accelerator and brake, while Surround-view gives the driver a 360-degree view of the outside of the car. There is also a new version of the BMW Head-Up Display which is able to put additional information on the windscreen.
The new X5 will cost from £42,590 OTR for an sDrive25d SE and from £44,895 OTR as an xDrive25d.