Alfa Romeo reveals 4C Spider prices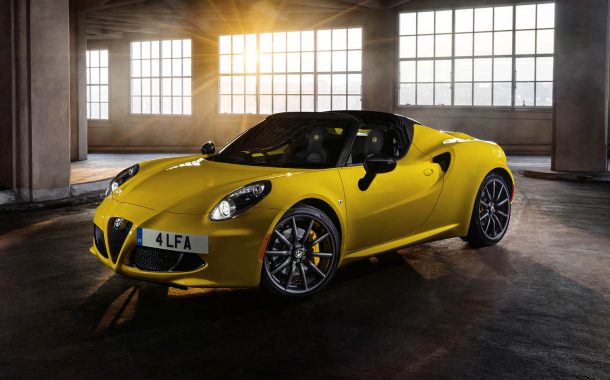 ALFA ROMEO has opened the order book for its much-awaited 4C Spider sports car.
The open-top model, which is priced at £59,500, is powered by the same, all-aluminium 240bhp turbo petrol engine as its coupe stablemate.
Its performance is also on a par with the hardtop model and capable of accelerating from 0-62 in less than 4.5 seconds and on to a potential top speed of 160mph.
As with the coupe, the bodywork is made entirely from SMC – sheet moulded compound – a high-strength composite material that's 20 per cent lighter yet more rigid than steel.
Even the Alfa's windscreen and side windows have been optimised for lightness, using thinner glass to reduce weight by up to 15 per cent.
Styling sees the coupe's glazed engine cover and flowing shape make way for a more traditional spider form, with pronounced buttresses and a body-coloured engine deck-lid with three heat extractors and an aerodynamic spoiler.
And the rollover structure is housed in a black or optional carbon fibre halo.
Other new features to debut on the car include a titanium exhaust system, mounted centrally with switchable modes which can be altered depending on the driver's mood.
Inside, a new Alpine head unit and standard Alfa Hi Fi sound system offer improved audio quality, and to further enhance cabin ambience, options such as leather with accent stitching and matching door cards will be up for grabs later in the year along with a carbon fibre hardtop.