Vauxhall hopes Cascada will lead to rush of sales
IT has taken more than 70 years, but Vauxhall has come up with its first new mid-size convertible car. And they have revealed the first few teaser shots to whet the appetite.
The new car will be called the Cascada — the last one was the OE-Type 39-98.
Coming in at 4.7 metres long (more than 70cm longer that rival Audi's A5 convertible offering) the Cascada will have a full-size fabric top which will be opened and closed at the push of a button. This will even be possible while the car is travelling at up to 30mph — great for when that rain starts to fall!
Vauxhall has enjoyed success in the past with open-topped models in the compact class, and has also commissioned open-topped versions of the Cavalier to be built by outside manufacturers, the Cascada is the first mid-size convertible that it has built and designed in-house since before the Second World War.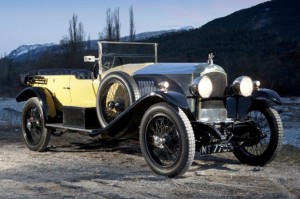 One of the last large, convertible-bodied cars Vauxhall built was the iconic OE-type 30-98, which could be specified with the company's own Velox body (seen here). The 30-98 was the UK's first catalogued 100mph car, and a serious competitor for Bentley's three-litre models in its day.
Cascada, a Spanish word meaning waterfall, is the third new name to be introduced by Vauxhall this year, following Mokka and ADAM, and each model is set to be incremental to the company's current line-up.
Vauxhall's chairman and managing director, Duncan Aldred, was enthusiastic about the lift each model offered the company: "Cascada, along with ADAM and Mokka, will bring a fresh and exciting dimension to our product line-up for customers. This year is genuinely a new chapter in Vauxhall's long history, and I'm pleased that we're able to enter the mid-size convertible sector with Cascada, and continue to refresh people's perception of our great brand."
While the Cascada won't be shown at this month's Paris Motor Show (where ADAM will take centre stage) more information will follow soon, ahead of the car going on sale in early 2013.