TT Legends star in new DVD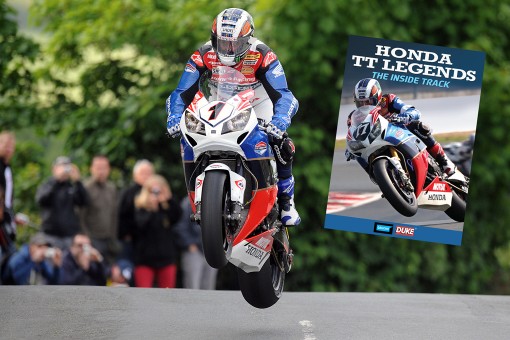 WITH almost perfect timing as the world famous Isle of Man TT races take place, a DVD commemorating the essence and spirit of the racing has been released.
Based on an eight-part TV series first shown on ITV4 last year, TT Legends, the filming followed the Honda TT Legends team as they took on the twists and turns of the circuit in 2012 and other tough bike races from around the world.
Gaucho Productions followed the team as they battled it out on circuits from Le Mans and the Isle of Man, to Japan and Germany, chronicling the trials and tribulations faced by the riders, the mechanics and everyone involved in putting a race team together.
John McGuinness, nicknamed the 'The Morecambe Missile', is an ex-bricklayer and mussel picker from the north of England who has won the legendary Isle of Man TT 19  times.  He is joined in the TT Legends team by Cameron Donald and Simon Andrews. Donald is Australia's fastest plumber and a two-time winner of the Isle of Man TT. Andrews is a fearless young gun who was the fastest newcomer at the TT in 2011. Together they are the TT Legends.
The documentary goes 'behind the screens' as the team competes in the World Endurance Championship. The season kicks off with the famous Bol d'Or, a twenty-four hour race at the Magny Cours circuit in France. Then they're off to Doha, Germany and even Japan for the famous Suzuka 8-Hour before they return to France for the Le Mans 24-hour. Each race brings its own, distinct challenge for the team. In Suzuka, for example, we'll join McGuinness in an ice bath, a welcome antidote to the searing heat.
These circuit races are accompanied by legendary road races in Northern Ireland and the Isle of Man. McGuinness is the man to beat on the roads with Donald and Andrews among his toughest rivals. Gaucho Productions were there to witness the contrast, as these friends and teammates now push each other to the limit and beyond.
Away from the races, the series will show the team as they relax away from the pressures of racing, learning what makes them tick and why these men are willing to risk everything to race on bumpy public roads at over 200mph. And you'll meet the families and friends who must cope with the stress of watching them race. Over eight, half-hour episodes, witness all the tears, tantrums and triumphs as this fascinating team enjoys an epic season.
The TT Legends: The Inside Track is available from www.dukevideo.com and a trailer can be seen at http://youtu.be/XnJJDZpcods.