New Shark Skwal helmet with LED lights goes on sale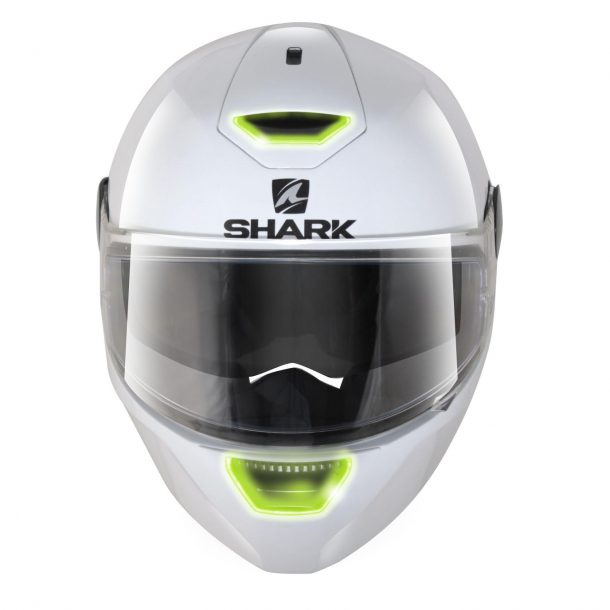 A BRAND new helmet in SHARK's 2015 collection is the aggressively styled and unique SKWAL. The French helmet brand is known for its colourful graphics and innovative designs and the SKWAL won't disappoint – with new technology and striking graphics it's sure to turn heads.
The SKWAL has a brand new shape and its rear spoiler enhances its aerodynamics and solid stability. It also features a new visor system, Autoseal, which uses a sprung visor that keeps it perfectly in place, keeping water out and hugely reducing noise.
Its modern lines are enhanced with four integrated LED lights on the chin and forehead vents, as well as on both sides of the rear spoiler – the Skwal is the first full-faced helmet on the market to feature LEDs. Once turned on the LED's glow a yellow/green colour, which not only stands out but also raises visibility at night. The lights can be on permanently, or set to blink. Battery life on the LEDs is up to five hours if set to be on permanently and up to eight hours if set to blink, the battery is charged by USB.
Despite the new technology and LED battery, the helmet remains light and weighs around 1470grams. It also features SHARK's Easyfit system for glasses wearers, has an internal sun visor and can be fitted with SHARK's Bluetooth unit SHARKTooth – other Bluetooth systems can also be fitted.
The SKWAL is available now in UK dealers in gloss and matt colours with RRP's from £189.99, the graphic colours are also available with RRP's from £199.99.