Kymco introduce LIKE 200i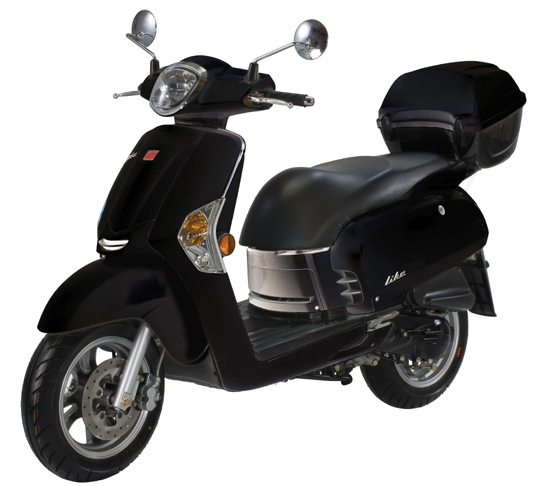 KYMCO has recently introduced a new addition to its LIKE retro scooter family, the fuel-injected LIKE 200i, which offers a 60% increase in power over its 125cc brother.
The classically styled LIKE 200i is priced at just £1,999, offering discerning riders the option of choosing a high quality retro chic scooter at a fraction of the cost of comparable models in this class. 
The LIKE scooter family has been styled by Italian designer Massimo Zaniboni, and all models in the range feature chrome mirrors, wide body panels and a chrome surround headlamp on the handlebars to provide the classic 50s and 60s retro look.  Such has been the global popularity of the LIKE's characteristic styling that it has even been compared to Lambretta's legendary scooter design. The 200i version with its fashionable metallic midnight blue pearlescent paintwork is no different.
In contrast, underneath the retro exterior, the LIKE 200i is powered by KYMCO's latest low emission four-stroke 163cc air-cooled engine, making it greener and more fuel-efficient.  With a top speed of 75mph, coupled with a long wheelbase and 12-inch alloy wheels for added stability, the LIKE 200i is ideal for the city commute and day or weekend trips.
Standard kit includes a halogen headlight, a digital instrument panel, including fuel gauge, a colour-coded top box, in addition to an electric and kick-start, automatic choke, lockable under seat storage box, steering lock, and centre and side stands.  
The LIKE 200i, like its 50cc and 125cc counterparts, offers the whole package for riders wanting retro style with the latest 21st century technology at an affordable price. 
This is further complimented with an unlimited mileage 2-year manufacturer's warranty and the support of KYMCO's National dealer network.