KAWASAKI's new KLX125 is now available at your nearest dealer and is the first of two new 125cc models this year.
The bike generated huge interest when it was first shown in the UK at the NEC Motorcycle Show late last year. The off-road styled, fuel injected machine creates a unique opportunity for Kawasaki ,as sales and marketing manager, Michael Johnstone, explains.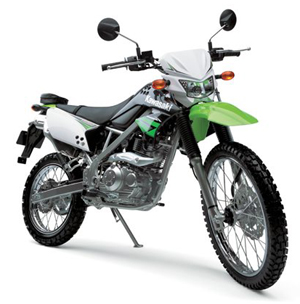 "With the introduction of bikes like the KLX125, we now have our most complete range for some years, both in terms of engine capacities and styles of machines available. This bike is designed to appeal to novices and those totally new to motorcycling with sure-footed manouverability, a fun riding experience and durability as its primary design goals".
Featuring a comprehensive digital instrument panel, electric starting, advanced fuel injection and disc brakes front and rear, the 10 horsepower machine is easy to ride yet has all the physical presence of a larger bike which Johnstone thinks will be a key selling point.
"We know that many new riders want what they describe as a "full-sized motorcycle", and the KLX125 fits that description admirably. This is just the sort of machine that will be purchased by those attracted to two wheels by the motorcycle industry's new Get On campaign".