Ducatis win Pikes Peak Race to the Clouds in Colorado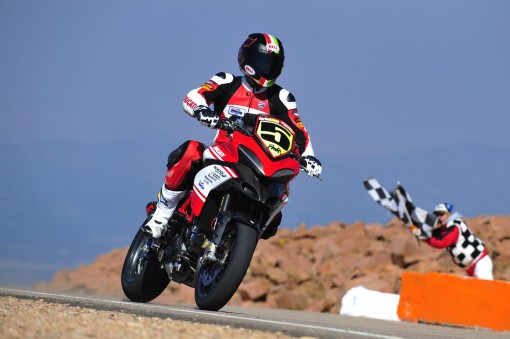 DUCATI has added a third win to its impressive record at the historic "Race to the Clouds" event in Pikes Peak, Colorado.
Starting from pole position, Carlin Dunne dominated the 2012 International Hill Climb and set a new course record in the process for motorcycles.
Dunne and his Spider Grips Ducati teammate and Greg Tracy completed the course in less than 10 minutes – the first time any bike has managed to achieve that in the event's 90-year history.
Dunne reached the summit of Pikes Peak, which measures in  at 14,110 feet, in the record time of 9:52.819, beating his previous record of 11:11.32, while Tracy was less than six seconds back coming home in second place with 9:58.262.
Dunne said it was an emotional day for him. "The year of work the Spider Grips Ducati team put into preparing for Pikes Peak got us across the finish line in under 10 minutes, an achievement we're very proud of. When we heard that we won and broke the record for the second time, I was speechless. The one-two finish proves the Ducati Multistrada 1200 S is the ultimate bike to conquer Pikes Peak."
Dunne hit speeds of 144mph (230kmh)  on the mountain's straights, and traversed 156 turns, ranging from hairpin, blind, decreasing radius, and multi-apex turns, while consistently gaining elevation up the technical 12.42-mile (20km) course. The Pikes Peak International Hill Climb, or "Race to the Clouds", is situated in the Rocky Mountains, 16km west of Colorado Springs and races from a start line altitude of 2,862 metres (9,389ft) to a finish line at 4,300 (14,100ft).