With six champs on grid, F1's set for golden era
A golden era beckons for Formula 1. With six world champions on the grid in five top teams, 2012 is going to be another thrilling year for the world's most glamorous sport.  24 drivers in 24 cars, but only one can become World Champion. TOM WILKINSON previews the 2012 season.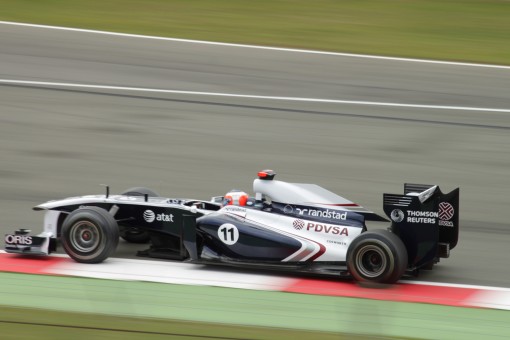 WITH winter testing beginning this week, many teams are unveiling their 2012 machines.  We see another major comeback this year with the return of former champion Kimi Raikkonen. Many fans are delighted with the news, as Kimi is a popular character within the sport. We have seen announcements throughout the winter of driver changes and new contracts being agreed.
Let's take a look at the 2012 grid.
Red Bull look to continue two years of top form, Sebastian Vettel and Mark Webber take on the challenge once again. It's the Australian who looks to improve on his race performances. With only one win in 2011 Mark Webber is seen by many as backup in the Red Bull team. He will certainly need to buck up his ideas if he's to challenge Vettel this year. Christian Horner is expecting tough competition this year, but says he remains confident. Sebastian Vettel is hunting his third world championship title on the bounce.
McLaren unveiled their 2012 challenger on Wednesday at the teams HQ in Woking. At the much anticipated launch of the McLaren MP4-27, the team said they were confident that they could be a serious challenge for the Red Bulls. Jenson Button is looking to enjoy another strong season with the team as team mate Lewis Hamilton looks to put the issues of 2011 firmly behind him. He says he's confident he has resolved the problems which troubled him last season.
Ferrari will be hoping to improve on a poor 2011 season. Fernando Alonso and Felipe Massa continue the challenge in the prancing horse which needs to be much faster this year if it's to match the Red Bulls. Pat Fry is one of the men behind the 2012 Ferrari, he will be pushing for updates throughout the season as that was one of the reasons the team struggled last year. Felipe Massa has been given his orders to improve this season, one can't help but feel he just hasn't been the same driver since his crash in Budapest in 2009. It's been rumoured recently that Ferrari will give Robert Kubica a test drive in a 2010 car later this year. A possible replacement for Massa? Well maybe, time will tell.
Mercedes AMG have the experience of Michael Schumacher and Nico Rosberg again this year who will want much more speed from their cars. They have shown promising moments over the last two years, however still have not been able to perform on a regular basis. This year with a change in the technical side of the team, they have teamed up with AMG. They promise much improvement this season and say they should be challenging McLaren, Ferrari and Red Bull. It's a bold statement, but time will tell on that one. Nico Rosberg is still looking for his first race victory, while veteran Michael Schumacher will want to make a bigger impression this year than he did last.
Lotus (formerly Renault) has an all-new line up in 2012 with a double driver return. Kimi Raikkonen is back after two seasons away in rallying. The 2007 world champion insists he's as motivated as ever and looking forward once again to the challenge of driving an F1 car. French driver Romain Grosjean also makes a return after a unsuccessful stint with Renault towards the end of 2009. Having driven in GP2 over the last two years and becoming 2011 GP2 champion, Lotus say he's ready and fully prepared for Formula 1.
Sahara Force India retains Paul DiResta for this season. Former reserve driver Nico Hulkenberg steps into a race seat once again after successful Friday test sessions last year. It's a young fresh partnership for a team who are growing stronger and stronger. Adrian Sutil is out of the team. It's highly unlikely we will see him in Formula 1 this year.
Sauber had a strong start last year. The team faced difficult times after the horrifying crash with Perez in Monaco. But they recovered well and both drivers had relatively strong races throughout the first half of the year. The end of their year was difficult however. The team will want solid race results throughout the whole season this year. The team retain Kamui Kobayashi and Sergio Perez for 2012.
Toro Rosso has an all new line up in 2012 with Daniel Ricciardo and Jean-Eric Vergne joining the team. Frenchman Vergne, new to F1, was successful in test sessions at the end of last year. Having only completed a limited number of practice sessions last year, I can't help but think he may not be fully ready for F1 just yet. The Australian Ricciardo however showed good pace in the second half of last year. Considering he was in the HRT, he drove well and showed good potential. I think he will be a strong driver this year.
Williams now have Bruno Senna in the team alongside Pastor Maldonado. This means that veteran Rubens Barrichello is out of Formula 1, however he has recently been testing for the IndyCar series in America. Williams will want a much stronger year after the disaster of 2011. It was the team's worst season in its history last year, new sponsors and an all new technical team will be looking to make sure 2012 is a much more successful and positive season.
Caterham (formally Team Lotus) look to start 2012 as they finished in 2011. They are a strong up-and-coming team who made real progress throughout last season, even challenging the mid-field at times. Jarno Trulli and Heikki Kovalainen continue with the team this year and will want to extend their current run of form.
HRT will want big improvements in 2012 however so far this year have struggled to get their programme off the ground, some were speculating whether they would begin the year with last season's car. They are still struggling financially and only completed their driver line up on Friday with the announcement of Narain Karthikeyan, who will join Pedro De La Rosa. They need a much stronger season otherwise they could well struggle to continue at the top flight of motorsport.
Marussia (formally Virgin) retain German driver Timo Glock for 2012. GP2 driver Charles Pic steps into the team after successful tests for the team in Abu Dhabi at the end of last season. The Frenchman scored two wins last year in the F1 feeder series and looks for success in the top flight of motorsport.
My tips for 2012 (Teams)
I believe this season will be much closer. Red Bull are confident and one can't forget what a genius Adrian Newey is at designing the ultimate F1 car. But I think that Ferrari, McLaren and Mercedes AMG will be much stronger this year from the start of the season. Lotus could be in this mix from time to time too. Sahara Force India have improved year on year and could Caterham be in mix this season? Well points are not out of the question I don't think. They've certainly performed well in their two seasons in F1 so far. They have also improved throughout those two seasons.
My tips for 2012 (Drivers)
Obviously reigning double world champion Sebastian Vettel is favourite to take the title once again this year. But don't forget about Fernando Alonso. His time with Ferrari has been mixed so far, with limited success. He will be pushing for victories and so will the management of the team who are under real pressure to perform. McLaren also will be in the hunt for sure with both drivers. Hopefully Lewis Hamilton will be back to his best this year and if so, the McLaren team, I believe, will have the strongest driver line up on the grid. Watch out too for Michael Schumacher this season. He will want some wins this year to maintain his belief that the comeback in 2010 was worthwhile. Will Kimi Raikkonen be as good as he was? How will he adapt to the new cars, DRS and the Pirelli tyres? I think he'll be just fine, but he will need a strong Lotus to challenge for victories. Other drivers to look out for include Paul Di Resta, Daniel Ricciardo and Bruno Senna. Three strong up-and-coming drivers, who will be hungry for success in 2012.
Fasten your seatbelts because Formula 1 in 2012 is going to be an absolute thriller. Join me @TomWilkinson89 on Twitter as I'll be brining you all the latest on every race live – and don't miss my race reports and features here at wheelworldreviews.co.uk