Ready for F1 action at Spanish Grand Prix
As Formula 1 comes to Europe for the first time in 2012, TOM WILKINSON reports on the build-up to the Spanish Grand Prix.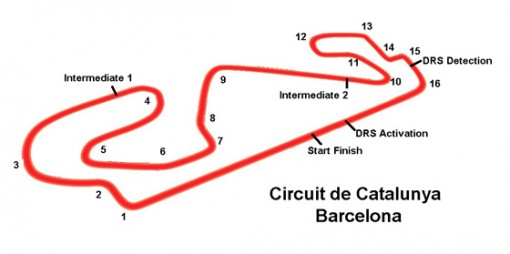 With the first four fly-away races of the 2012 season out of the way, the Formula 1 circus moves into Europe for the first time this season.
Barcelona, in Spain, plays host to round five this weekend. Much has happened since the first race back in Melbourne, in March. Such close racing action has provided plenty of drama and excitement, but the long break before this weekend's race gave the teams chance to regroup and make changes to the cars.
The gap also saw the first in-season test session which was held in Mugello, Italy. Will these changes give one team the edge perhaps? Well it still looks close after the test session and Barcelona will be the first real chance to see the new upgrades at their best. So let's take a look at the changes.
The biggest area the teams have been focusing on is the DRS system being used on the Mercedes-Benz. It's been dubbed the super DRS and is a complex system which cannot just be bolted onto the cars. It has to be built into the cars precisely and this could take rival teams a number of races to perfect due to the complexity of its design.
The upgrade should have the affect of achieving higher speeds down long straights and better stability, allowing the driver to open the DRS system much earlier than the standard DRS.
Since the FIA confirmed the super DRS was legal, the teams have been planning ways to upgrade their cars in order to compete with the front runners. But its McLaren, Lotus, Red Bull and Ferrari who will most likely be the first to seriously attempt this complex and demanding upgrade.
Other areas of interest will be the usual upgrades to front and rear wings and the diffusers. These are the areas teams normally focus on in the hope of improving their lap times.
Red Bull seem to have found the problem which was costing them pace and performance. Their impressive performance last time out in Bahrain could be the start of a comeback from the Milton Keynes-based charging bulls. Sebastian Vettel was certainly impressed with his team's performance.
Barcelona will surely play host to another brilliant race this weekend, things are shaping up to be very interesting indeed. This familiar circuit isn't usually known for thrilling races, but 2012 could well be an exception.
Let's see what happens on Race Day. You can of course read my full race report right here at wheelworldreview.co.uk. Follow me on Twitter throughout the weekend @TomWilkinson89 #TWF1 where I'll be tweeting Live on all the action.
Enjoy the race on Sunday.