European GP preview – who will reign in Spain?
Who will reign in Spain this weekend? TOM WILKINSON previews the action and catches up with the news ahead of the European Grand Prix in Valencia.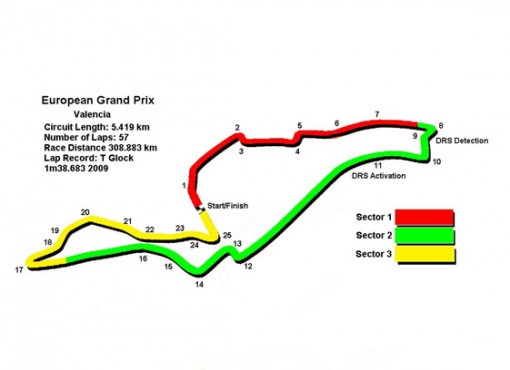 History was made last time out in Canada, will home favourite Fernando Alonso be the first driver this year to win a second race this weekend? This circuit has not traditionally been a favourite of the fans and this will be the last time we come to this circuit until 2014 as the Spanish Grand Prix is to alternate between here and Barcelona. Last year's race was more exciting than previous races, largely thanks to DRS.
Surely this year will be just as exciting given how the season has gone so far. After the last race in Montreal, where Lewis Hamilton became the seventh different winner this year,  with Romain Grosjean and Sergio Perez also on the podium, we are all set for another thrilling weekend of racing.
The DRS zone this weekend is on the long straight heading down to turn 12, the detection point is between turns seven and eight. Drivers will be looking to take advantage of the DRS here as overtaking is always challenging around this fast, sweeping circuit.
The strategies this weekend will be varied I'm sure, two or three stops is what we should expect here. There is always the possibility of a Safety Car too, as the walls on this circuit can make it difficult to clear away any debris.
The weather forecast for this weekend is hot and dry throughout. Pirelli have brought the soft and medium tyres which should limit the degradation in the hot temperatures.
Home favourite Fernando Alonso will be looking for a strong performance, Ferrari have shown good improvements recently and will want to build on that. Felipe Massa has been moving up in results too. A strong performance in Monaco seems to have boosted the Brazilian's confidence.
McLaren, however, will be looking for big improvements on Jenson Button's side of the garage. A woeful weekend for Jenson in Montreal means he will be on the hunt for success this weekend. Lewis Hamilton on the other hand, will want more of the same, a strong car, good performance, and another victory.
Lotus and Sauber who were strong in Montreal will also want to continue the current run of performance. Although Kamui Kobayashi and Kimi Raikkonen will want to improve and finish ahead of their respective team mates. Its been a case of mixed fortunes for these two teams so far this season.
THIS WEEK'S F1 NEWS:
The big news this week is from Le Mans where former F1star Anthony Davidson has broken his back in a horrific accident during the historic 24 hour endurance race. The Peugeot driver was in the battle for the lead in the early stages of the race when his car collided with the Ferrari GT car of Pierguiuseppe Perazzini on one of the fastest parts of the circuit. The car flipped over during the crash and landed hard before smashing into the barriers.  He was taken to the medical centre for checks and then transferred to hospital where scans revealed he had broken two vertebrae. The 33-year-old has been recovering well and is now back home, but still in a recovery process. You can follow Anthony on Twitter @antdavidson
Ferrari are confident they can take the title this year after recent improvements from the team. Fernando Alonso has been posting consistently strong performances so far this year, his team mate Felipe Massa has recently improved after a lacklustre start to his season. Out of all the top teams, Ferrari are the ones who have improved most and are a constant challenge to the likes of Red Bull and McLaren. The team will be pushing hard to continue the current pace of development.
The subject of cost has been in the headlines too this week. The FIA have been discussing ways of bringing down the cost of Formula 1 once again. The discussions have been over potential changes to the technical regulations. Any decisions and changes to the regulations will have to be agreed by the end of June. However this does highlight that the FIA are concerned that the cost of Formula 1 is spiraling out of control and they feel it must be controlled under strict regulations.
For all the latest news and action from this weekend's European Grand Prix in Valencia, follow me @TomWilkinsonF1 #TWF1 as I'll be covering all the action Live.
You can read my full race report right here at wheelworldreviews.co.uk