Which is the best VW T5 based camper van of all?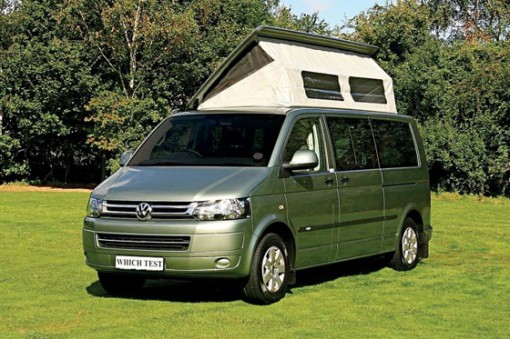 THE Bilbo's Celex LWB is the overall winner of the biggest ever group test of Volkswagen campers.
The leading magazine's highly experienced team tested 12 campers, all based on the current Volkswagen T5, featuring the classic side kitchen layout with an elevating roof.
The campers tested included Volkswagen's own California, while the remainder were from all the UK's leading manufacturers: the Bilbo's Komba SE 35, Bilbo's Celex LWB, Bebb Sport Lifestyle, Rolling Homes, Jerba Cromarty, Danbury Surf, VWKC Komet, VWKC Karisma, Concept Multi-Car Trio Style, Leisuredrive Crusader and Hillside Birchover.
The Bilbo's Celex LWB beat off strong competition from Concept Multi-Car, Jerba, Rolling Homes and VW's own California camper, to be crowned Which Motorhome's best Volkswagen campervan.
Showing all the experience gained in Bilbo's 35 years of not just building but actually using Volkswagen campervans, the Celex is light and spacious, and above all practical in use. From the drawers in the galley where others use cupboards to Bilbo's own easy-to-use bed system and elevating roof, the Celex LWB was simply the best thought through camper tested, as well as one of the best built.
David Latham, a partner at Bilbo's Motorhome commented "Bilbo's are both excited and honoured to receive this prestigious award in what is the largest VW camper showdown ever to be held. The Bilbo's Celex LWB, our most popular selling vehicle, beat off stiff competition to win this award. This is a great end to our 35th anniversary year and proves that our philosophy of designing, building and delivering high quality campervans has not wavered over time."
The test was carried out by Which Motorhome and its editor, Peter Vaughan, said, "It is no great surprise to see Bilbo's taking the honours here; they are past award winners and have simply refined and improved their campers over the years to become best in class. The fact that they are true VW specialists must help, too."