Toyota launches search for oldest surviving Carina E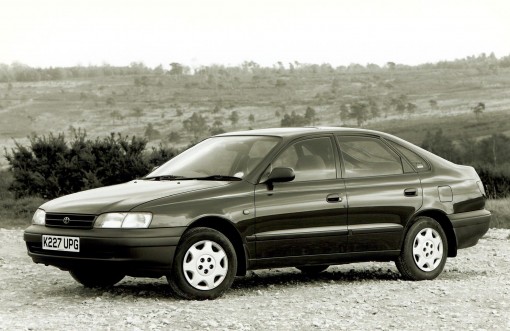 BELIEVE it or not, it is now years since Toyota launched its first British-built model, the Carina E, and to celebrate, the company has started a search for the oldest surviving example.
The first Carina E rolled off the production line at the newly-opened factory at Burnaston, in Derbyshire, in December 1992 and Toyota believes that a huge number of the cars are still on the road today. DVLA records show some 17,000 Carina models, built between 1992 and 1997, are still in regular use.
To mark that achievement, Toyota has launched a competition, offering owners and drivers of the UK's oldest British-built Toyotas a chance to get behind the wheel of the newest – the all-new Auris which is due to be launched in December.
Anyone spotting a K-plate Carina E is asked to let the owner know about the search, perhaps simply by putting a note on the car's windscreen, and that Toyota would like to get in touch.
If you own such a car, you can confirm whether it was British-built, or one of a number that were imported from Japan by checking the 17-character code on the vehicle's identification plate which will start with an S for Burnaston vehicles or a J for imported cars. The plate can be found under the bonnet, just below the windscreen wipers.
Owners of the oldest examples found will be invited to tell their car's story and have it photographed and will have the chance to win use of a new Auris for a week.
By 1993, the Carina E was in full-scale production at Burnaston, beginning a long-line of saloon and hatchback production that continues today with the Avensis and new Auris and Auris Hybrid. Last year the Burnaston factory produced more than 128,000 vehicles, 80 per cent of which were sent for export to Europe and other world markets.
To let Toyota know about your Carina send your name, address and contact details by e-mail to toyota.contact@tgb.toyota.co.uk.