Motorists on a charge as nights draw in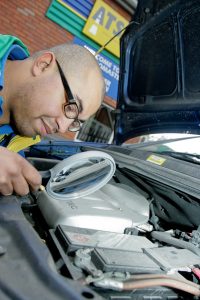 MOTORISTS are being urged to get their batteries checked in readiness for the onset of winter.
Each year technicians at national fast-fit chain ATS Euromaster take a 'close look' at tens of thousands of vehicle batteries, providing customers with a free print-out of their battery's performance.
The clocks going back normally heralds the start of car and van batteries being put under increased strain, owing to drivers requiring extended use of their headlights and heating system, whilst the colder temperatures at this time of year reduce battery performance.
A good battery which has been well looked after should last at least five years, with batteries over seven years old being the most common cause of cars failing to start during the winter months.
With the decline in new car sales during the last 12 months, we expect the average age of cars will have increased, meaning a greater number of batteries are at risk of failing this winter.
A battery check takes around five minutes and a technician will check the charging system, voltage output and charging rate of the battery to indicate whether a battery failure is likely.
If a battery does need replacing, ATS Euromaster holds an extensive stock of high-quality batteries in all of its centres and fitting is free.  All batteries are supplied with either a three or four year unlimited mileage guarantee, depending on the exact model.
Drivers can also combine a free battery inspection with a no obligation winter health check, which covers tyre tread depth, tyre condition and pressure, together with visual inspections of front brakes, battery, exhaust and shock absorbers.  At the end of each inspection drivers receive a written report confirming either a clean bill of health or advising on any fast-fit service work recommended.