Winter comforts are a real Tribute to modern designs
ROAD TEST REPORT AND REVIEW: Tribute 720

The Tribute 720 in snowy surroundings. A passenger train makes its way over the famous Ribblehead Viaduct while cloud still just touches the summit of Whernside.
A winter break in a motorhome provides a very different experience for wheelworldreviews editor DAVID HOOPER, who woke up in one of the latest Tribute range to find a blanket of snow covering North Yorkshire.
MOTORHOMES, caravans and tents conjure up images of long summer holidays, doing a bit of sightseeing, visiting the odd tourist attraction and then chucking a sausage or two on the barbecue and lazing around with a glass of wine in hand, as you watch the sun go down.
I have just turned that idyllic summer scene on its head and spent a weekend in December in one of Tribute's 2012 range of motorhomes to find out what they are like to live with in the middle of winter.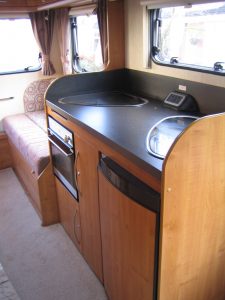 With the sun setting by 4pm the barbecue was off the menu, it was too dark for start and too early for tea, add to that a howling wind and I doubt I would have been able to light it in the first place, and the driving rain would have diluted my glass of red wine almost as quickly as I could have drunk it, so spending time in a motorhome at this time of year couldn't be more different to the summer experience.
A different kind of break it may be, but by no means would you be roughing it. As my wife and I discovered when we took this Tribute 720 up to Ribblehead, in North Yorkshire, the modern motorhome is a warm and comfortable place to be, whatever the weather may throw at it – and we had the lot – rain, sleet and snow!
With no electric hook-up we were completely reliant on our self-contained house on wheels. I have never done anything like this in winter before and I was impressed with just how comfortable this Tribute model was.
Relying on the leisure battery only, we were worried it would go flat before the weekend was out, but Tributes feature the latest LED lighting which use very small amounts of electricity, so the battery had plenty of juice left when we eventually headed for home.
Heating was provided by the on-board gas supply, with the centrally-located fire proving more than capable of keeping the interior at a comfortable temperature. Hot and cold running water was also on tap of course, as was the separate shower, which means your loo doesn't get a soaking every time you need a wash.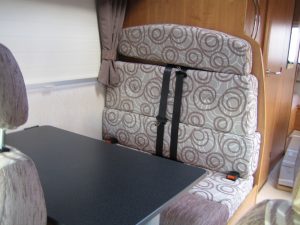 Auto-Trail's 2012 Tribute range uses the respected Ford Transit platform as its base, so the controls up front were very familiar to me. What wasn't so familiar, was the experience of driving such a large vehicle. At an inch under 23ft long, the motorhome dwarfed anything I have tested recently and I can understand how some people could be daunted by jumping into the cab of something this size if they have never done it before, but let me promise you, driving this Tribute model was only marginally more difficult than driving a family saloon, and then only because of its length, which means you have to give some of the tighter corners a slightly wider berth.
The Tribute 720 is a pleasure to drive. Ford's 2.2-litre Duratorq diesel engine provides plenty of pace thanks to its 140bhp, and pulls surprisingly strongly once on the move. It can be impressively economical too – on the return journey from North Yorkshire, the trip computer reported an average fuel consumption of 32.4mpg and that included a stop-start journey through the centre of Leeds as we made our way down to the M62.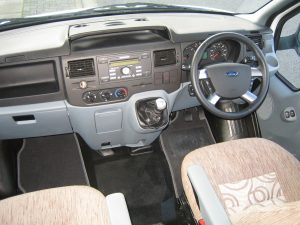 With this model, you can see through the middle of the vehicle with the rear view mirror, but I found that I tended to use the large door mirrors, each of which had a smaller, wide-angle mirror at the bottom, which was useful when manoeuvring.
I was impressed with the quality of the interior of the Tribute motorhome. For the 2012 season, the range features a new wood finish, with chrome handles, locking buttons and other trimmings. There are plenty of over-head lockers, a wardrobe, and lots more storage space under the seats, which are covered in some attractive new materials for this year.
There is a choice of layouts to suit various requirements. The 720 model we tested featured a half-dinette at the front, which comes with two extra seatbelts so four people can travel in the van. It can sleep up to six people though, with the dinette area, and the sideways facing rear seats both converting quickly and easily into more bed space.
So with seats front and rear, the central area of this motorhome is occupied by the kitchen area on one side, complete with sink, three-ring gas hob, oven and a useful 80-litre fridge, while the wardrobe, bathroom and toilet area is opposite.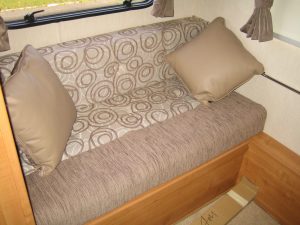 It's a smart-looking vehicle with fresh new graphics for the 2012 model year. Other changes include a restyled Luton window over the cab, colour-coded centre grille and lower bumper and the addition of front fog lamps, a heated windscreen and passenger airbag.
The carpets and upholstery designs have also been freshened up for 2012.
Being the High-line model, we slept in the space above the cab which is reached by a small step ladder, but for those who prefer, a Low-Line model is offered for the first time in the Tribute range this year. Surprisingly roomy, the bed was comfortable and I enjoyed waking up in the morning and peering out of the small window at the fabulous views as the weak winter sun glistened on the freshly fallen snow, which was a bit of a surprise!
Our last day was a real treat thanks to a covering of snow which turned the roads white until the gritters did their thing. The walking in the Yorkshire Three Peaks area was fantastic as always, and my reservations about driving the motorhome on slippery, hilly roads proved unfounded as the Tribute proved itself to be very surefooted, both in the torrential rain on the night we arrived, and in the slushy conditions on the day we left.
It was a memorable weekend for several reasons – the great walking and fantastic views of course, but also for the realisation that a modern motorhome is not just for the summer, but can be used all year round. Thanks to the use of the latest energy efficient materials it is a warm and comfortable place to be, whatever the weather may get up to.
Tribute motorhomes are built to a high standard and such is their confidence in their products that they have backed them with a 10-year water ingress warranty.
For more information about any of the Tribute range, visit www.tributemotorhomes.co.uk.

Thanks to modern designs and good insulation, the Tribute range can be used all year round – even in snow!
Rating:





THE VITAL STATISTICS
MODEL: Tribute 720
CHASSIS: Ford Transit
BODY STYLES: Hi-Line, Lo-Line,
ENGINES: 2.2-litre 140bhp Duratorq diesel.
PRICES: From £34,015
IN THE SHOWROOM: Now
WEBSITE: www.tributemotorhomes.co.uk
All data correct at time of publishing
CLICK HERE and "Like" our Facebook page for regular updates and follow us on Twitter
OR CLICK HERE to read more about the 2012 Tribute range.