Suzuki Jimny and Vitara road test report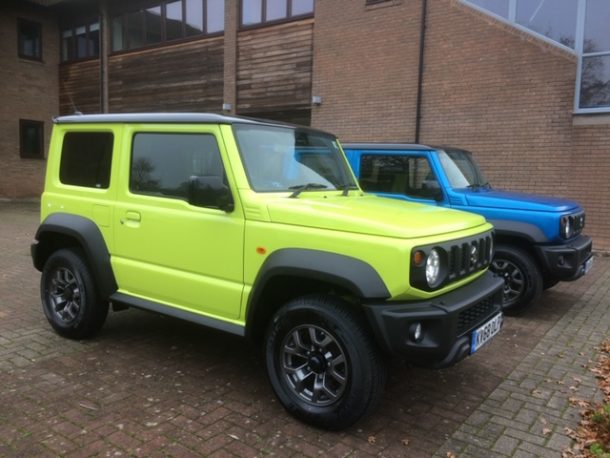 Suzuki Jimny and Vitara road test report: David Hooper has a look at two new models from Suzuki – the Jimny and Vitara – and explains why both are worth additions to the range.
If ever a little 4×4 was punching above its weight, this new Suzuki Jimny is it, but I've been told by the boss at Suzuki UK not to tell you about it!
It's not every day that the assembled journalists on a product launch are asked not to write about the car because the company hasn't got any cars to sell, but that, to our amazement, was exactly what happened at the recent launch of the new Suzuki Jimny.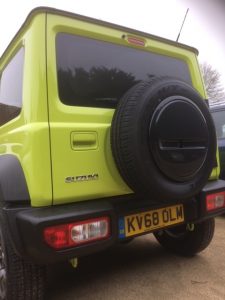 He then went on to confess his mistakes at the beginning of the year which affected sales, but  said that fortunately, it didn't really matter, as Suzuki was still on target for its second-best year ever in the UK, and despite Brexit and fluctuations in the Pound, the company was still doing very ok.
It was funny, and refreshingly honest, and it wasn't a complete waste of time because there was another new model being presented as well – and we were allowed to write about that one – the Suzuki Vitara, but more of that in a minute.
What I'm not allowed to tell you is that Suzuki is a victim of its own success and that the new Jimny has been so well-received around the world the Japanese factory which makes them can't keep up with the demand and there are waiting lists across Europe. The UK will only get 600 initially, and they are (nearly) all accounted for.
While it's great for Suzuki, it's a bit of a shame for the rest of us, because it's an endearing little car which you can't help but love. It has character! It takes on the mantle from its predecessor which has been on sale for the last 20 years. The new model is a proper off-roader too, with a traditional ladder-frame chassis, three-link rigid axle and 101bhp naturally aspirated petrol engine and a full-size spare wheel mounted on the tailgate. During the launch exercise at Stoneleigh Park, it tackled an off-road course which was so severe and tight it could well have defeated some Land Rovers – and it did it on standard road tyres, which made its traction and agility all the more remarkable!
With prices starting from £15,499 the Jimny has dropped the rotary dial and gone back to a traditional gear lever to operate its All-Grip system, due to customer feedback. There are no diesel engines anywhere in the Suzuki range any more either, the company having taken the decision to only offer petrol for the time-being, with an eye to hybrid technology for the future. The Jimny comes with a 1.5-litre petrol engine which is nicely suited to the car and its five-speed gearbox.
It's off-road prowess is a given, but on the road it's short wheelbase makes for an at times bouncy ride, and the steering is quite low geared which can feel somewhat vague on the road, and at motorway speeds, well, let's just say the Jimny isn't designed for motorway speeds, but will travel fairly happily at 60-70mph.
The new Jimny boasts an impressive equipment list which now features climate control air condition, electric windows and mirrors and an infotainment system to keep the techy young things happy.
Prices are from £15,499 to £18,999.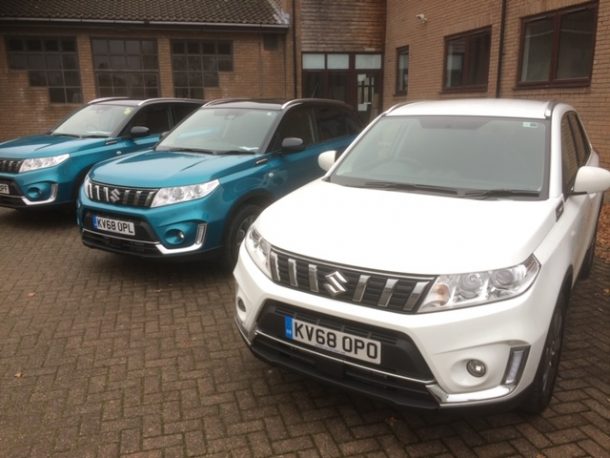 The car we can talk about is the Vitara, which now comes with 1.0-litre three cylinder Boosterjet engine, or the four cylinder 1.5-litre engine, mated to five and six-speed gearboxes, with Suzuki's All-Grip system available on various models. There are three trim levels to choose from, SZ4, SZ-T and SZ5 with prices starting from £16,999.
Both engine derivatives drive nicely and the cars handle well on the road, although we didn't try the Vitara on the off-road course on this event. Our exuberant Suzuki executive was keen to point out that the company had listened to critics of the hard plastics and the dashboard top was now made of soft-touch materials which is great, but it's a shame they forgot to include the door cappings which are still made of hard, nail-scratching plastics – but at least they're durable and easy to clean!
Externally there are styling tweaks fore and aft  and equipment levels across the range are good, with the entry level SZ4 including 16in alloy wheels, a chrome grille, engine auto stop/start system, cruise control with speed limiter, CD audio Bluetooth connectivity and climate control are just some of the highlights and it only gets better from there.
A full review of the new Vitara is coming soon, but in the meantime, for more information visit Suzuki's website, www. suzuki.co.uk.