Sporty Peugeot goes about its frisky business!
ROAD TEST REPORT AND REVIEW: Peugeot 308 GT 200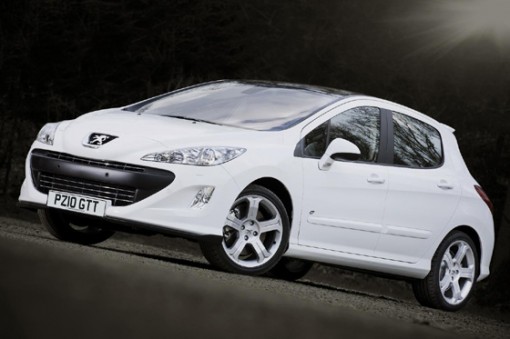 A perky little performer, KEITH WARD subjects the range-topping Peugeot 308 GT to his discerning eye.
THIS GT version tops the latest 20-strong 308 range from Peugeot, for many the most stylish of the trio of Gallic brands made up by Citroen and Renault.
Think GT in this model sector and thoughts immediately turn to a Golf. Well, the 308 gets near to the VW icon in performance and comes in around £4,000 cheaper, so commands attention.
True to form, the Peugeot looks good, our test sample looking mean in black, with a pair of fat chrome exhaust pipes and a rear spoiler betraying its credentials. Interior trim was smart in black half-leather with a GT pack of drilled aluminium pedals, plus sports steering wheel and gear lever.
Included in the price of £21,745 are such as dual-zone climate control, rear parking aid, cruise control, automatic headlamps and wipers, six airbags and the reassurance of a five-star NCAP crash protection rating.
But fitted options including metallic paint, Xenon lights, a spectacular, near full-length glass roof with electric screen, tyre pressure sensors and front parking aid added over £1,600.
And whereas sat-nav features these days on humbler models, in the 308 range it is standard only on the SR version aimed at fleet buyers. Otherwise you fork out £735.
On the road, the GT strains at the leash to show its pace – a potential 147 mph and 0-62 in just 7.7 seconds. However, don't expect a full-throated roar from behind the lion emblem on the bonnet.
Certainly within legal limits it goes about its frisky business with a quiet aplomb, a distant burble from those twin pipes hardly disturbing the hushed calm in the cosy cabin.
Clean changes are a feature of the six-speed manual box, but a heavy clutch and fierce brakes do not help smooth progress.
The GT's larger 18-inch wheels shod with low profile 225/40 rubber make for a hard ride which many will enjoy as part of the 200 bhp hot hatch experience.
And despite the performance, an overall 40-plus mpg in our 700-mile week is testament to Peugeot's work on extra engine efficiency in the 308 range, which runs to three less powerful petrol and four diesel units.
Good looking the GT may be, but there are a few practical glitches.
When it comes to extending the commendably wide boot, the generously cushioned leather rear seat squabs are awkward to grip and tip forward, while the seat backs don't drop flat into the restricted space behind the front seats. And there's quite a high rear lip to the boot – 800 mm or 31 inches above ground – over which to lift your luggage.
There is enough adjustment to the steering wheel and driver's seat to promise a comfortable position, but a couple of long distance holiday journeys left me with unusual twinges. In this vein, I see other users have pointed to the pedals being slightly offset.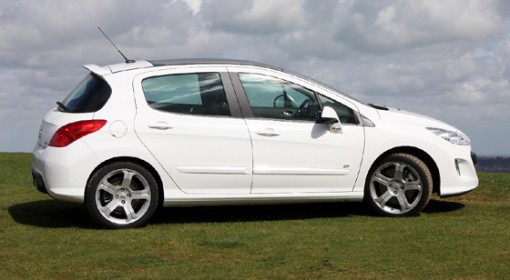 Rating:





THE VITAL STATISTICS
Model: Peugeot 308 GT THP 200
Type: Five-door hatchback; five seats
Boot: Length 830 to 1,430 mm; width 1,040; 430 to 1,398 litres
Engine: Petrol; 1,598 cc; 16v; 6-speed manual
Power: 200 bhp @ 5,500 rpm; max torque 275 Nm @ 1,700 rpm
Performance: 147 mph; 0-62 in 7.7 secs
MPG: On test 40.3 mpg; official combined 40.9
CO2: 159 g/km; band G; VED disc £170;
Insurance: Group 30E
Warranty: 36 mths/60,000 miles; 12 yrs anti-rust; 36 mths paint; 12 mths AA
Service: 24 mths/20,000 miles
PRICE: £21,745 plus options sunroof £370, Xenon lights and tyre pressure sensors £665, front parking aid £150, metallic paint £440